According to Frank Seravalli of TSN, the Chicago Blackhawks and Vegas Golden Knights are discussing a deal that would allow Vegas to select Trevor van Riemsdyk in the expansion draft on the condition that they also take Marcus Kruger in trade afterwards. Obviously, Chicago has less leverage in the talks as they will lose a player regardless, but assuring that van Riemsdyk will be available could be a strong move for the Golden Knights as they try to secure young assets.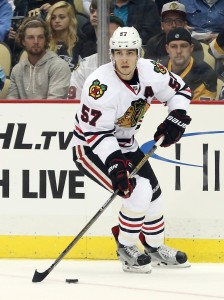 The Blackhawks are in trouble with the salary cap once again, and desperately have to find a way to move out money this summer in order to remain viable. Kruger has always been the most likely candidate for a trade, though many fans had hoped that it would be a lesser asset going to Vegas to make him the expansion selection. Instead, it looks like van Riemsdyk will be the latest cap casualty in Chicago after last season saw the exit of Teuvo Teravainen in order to get rid of Bryan Bickell's contract.
25-year old van Riemsdyk is under contract for this season at just an $825K cap-hit, a relative bargain after two solid seasons. The defenseman put up 16 points in just 58 games this year and has turned from an undrafted free agent into a solid 18+ minute player for the Hawks. That bargain would likely end at the end of next season, as van Riemsdyk would hit restricted free agency as a 26-year old and require a contract that bought out solely UFA years. While Vegas can afford to give him a substantial raise, Chicago cannot.
In Kruger, the Blackhawks have a player who effective but expensive. Though he is a solid checking center capable of contributing on the penalty kill Kruger has two years remaining at $3.1MM and just isn't worth it to the team. While he could help the Golden Knights as a 27-year old third-line center, his cap-hit has to leave the Hawks this summer if they're to fit everything in. They currently project over the salary cap, and moving out Kruger (and perhaps another, even bigger contract) would go a long way to solving that problem.
Kruger actually has a limited no-trade clause kicking in this summer, meaning the Blackhawks need to get rid of him before he can list Vegas as one of his blocked teams. It can't happen until after the draft though, as he currently projects as one of the team's two forwards—along with Jordin Tootoo—that meet the 70/40 exposure requirements. If the Blackhawks do in fact leave van Riemsdyk exposed and don't move him to another team before the draft, expect a Kruger trade in the few days following.
Photo courtesy of USA Today Sports Images