While the expansion draft is set to headline a busy NHL offseason, there are still several other storylines for each team in the months ahead. Here is a closer look at what lies ahead for the Arizona Coyotes.
2016-17 was expected to be full of rough patches for the Coyotes and that's exactly what happened.  The team integrated a plethora of young players into the lineup and while most showed considerable promise, they also showed that they're not ready to all be counted on as core contributors right away.  Arizona appears fully committed to their current direction which would seem to suggest a fairly quiet upcoming summer but there are still a few things to keep an eye on this offseason.
Arena Certainty
Unfortunately for GM John Chayka, this one is completely out of his control but it will very likely play a big role in his offseason shopping.  An agreement that would have seen them move to the East Valley fell through when Arizona State University backed out and ownership is once again looking for alternatives as they are unhappy in their current location in Glendale.
Unsurprisingly, this has once again revived possible talk of relocation and that simply cannot bode well for the Coyotes' recruitment efforts.  It can't be easy to try to get a player to sign when they can't say with certainly how much longer they'll be at their current arena and how much longer they may be in Arizona altogether.
While team officials are (at least publicly) optimistic that a resolution will eventually be found, Chayka and his management team have to hope that some traction is made in the weeks ahead.  If not, they'll be dealing with another hurdle when it comes to free agency in July.
Cap Creativity
Last offseason, Chayka was very creative with his cap space, adding the retired contract of Pavel Datsyuk as well as injured center Dave Bolland in an effort to add quality young talent to the organization.  That also resulted in them using long-term injury reserve to stay in cap compliance despite the fact that they had one of the lowest actual payrolls in the NHL.
Datsyuk's contract now comes off the books, as does that of Chris Pronger, who last saw NHL action in 2011-12.  As a result, the Coyotes have some more space to work with that Chayka could potentially use in a similar way this offseason.  The salary cap is not expected to go up by a substantial amount this summer (pending the NHLPA's usage of their 5% inflator) which is going to create that much more of a cap crunch that Arizona could potentially capitalize on once again.
If they do opt to go that route, they would be wise to only bring in short-term contracts.  While the team has plenty of room to work with now due to so many players being on entry-level deals, that won't be the case for too long so they won't want to potentially burden themselves down the road.  That said, it wouldn't be at all surprising to see Chayka make at least one similar move this summer as he looks to flood the organization with as big of a young core as possible.
Decisions On Veterans
Shane Doan's situation drew a lot of attention during the season as there were rumblings that he might be open to being traded at the deadline and leave the only organization he's ever known.  He wound up staying put and is set to become an unrestricted free agent in July.  There has yet to be a decision as to whether or not he wants to play another year and if the organization wants to bring him back, at least in an on-ice capacity.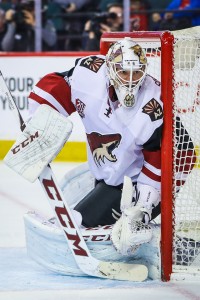 Goaltender Mike Smith is another interesting case.  He has two years left on his deal with a $5.67MM cap hit and has underachieved the past few years.  Normally, given those two elements, he'd be perceived as tough to deal but it's shaping up to be an offseason that could be full of goalies changing places.  Several of those are change of scenery candidates and a case can certainly be made that Smith could be in a similar spot.  It's worth noting that Smith has a full no-trade clause that he would need to waive in order to be dealt.
Given that the Coyotes have a grand total of two skaters under contract that are over the age of 30 (forward Brad Richardson and defenseman Alex Goligoski), it's likely that Chayka will look to add a couple of veteran voices either via trade or free agency as well.  They're more content than other rebuilding teams to put their key youngsters in big minute situations right away but it's likely that they'll still want some more experiences players in the room to act as a supporting cast on and off the ice.
Photo courtesy of USA Today Sports Images.