In one of the more inspiring stories in the league this season, Bryan Bickell is on his way back to the NHL. The Carolina Hurricanes have called up the three-time Stanley Cup champion on Monday morning. Bickell had been playing with the AHL's Charlotte Checkers, where he had four points in ten games while maintaining that he'd be back in the NHL this season.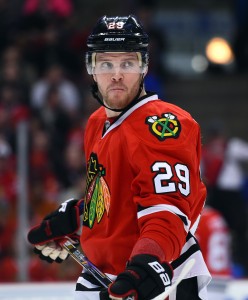 Bickell was diagnosed with Multiple Sclerosis in November, which immediately put a halt to his NHL career as he and his family determined how to go about his future. Though he obviously had new challenges to overcome, he was cleared to return to professional hockey in February and cleared waivers in order to play longer than a normal conditioning stint in the minors. At the time, Bickell said that he still planned on making an NHL return this season and Hurricanes' head coach Bill Peters said to "not bet against him."
The Hurricanes acquired Bickell along with Teuvo Teravainen last summer from the Chicago Blackhawks in what was basically a salary dump, but have hoped for some contribution from the big winger. Capable of scoring 10-15 goals while providing a physical presence, he is a nice supplementary piece if overpriced at $4MM. While he is headed to unrestricted free agency this summer, it might not be out of the question for the Hurricanes to bring him back at a discounted rate as they look to compete next season. They will be looking for some help for their young talented forwards, and have been extremely supportive to Bickell and his family throughout the diagnosis and treatment.
Even if it's just for a handful of games before hitting the open market, it will be nice to see Bickell back in an NHL rink. Whatever you may think of him as a player, it is tough to see a young person in what should be the prime of their athletic career be taken away from their passion. PHR welcomes you back 'Bicks', and hopes the return goes as smoothly as possible.