Despite being tied to the New Jersey Devils in recent days, Tyler Kelleher of the University of New Hampshire has signed an AHL contract with the Milwaukee Admirals—Nashville's AHL affiliate—for the remainder of the season and all of 2017-18. The Predators seem to have swooped in and stolen the 22-year old forward right out from under the rest of the league's noses.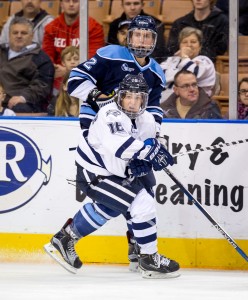 A finalist for the Hobey Baker award for the nation's top player, Kelleher scored 63 points in 40 games for New Hampshire this season. The extremely small winger has been more than a point-per-game player during his college career, and will go down as one of the all-time great offensive weapons to come out of the school.
It is that size though, that will be his biggest obstacle at the professional level. Listed at just 5'6″ 160-lbs, Kelleher has always been one of the smallest players at whatever level he's played. It's likely why he wasn't drafted despite a successful stint on the US Development Team, and likely why he couldn't lock down an entry-level contract this spring.
This doesn't mean that the Predators are the only destination for the young sniper, but it will give them a leg up if he proves that he deserves an NHL deal eventually. If he can bring that dynamic offensive game to the next level, they could easily have found another exceptional talent that was overlooked because of his height.