The Anaheim Ducks made a decision in the off-season to trade Frederik Andersen to the Maple Leafs and install John Gibson as the full-time starter. The young netminder had shown an extremely high ceiling in 2015-16, when he finished the year with a .920 save percentage and split the William Jennings trophy with Andersen. The Ducks were hitching their wagons to Gibson, but wanted someone a little more established behind him just in case. They decided to take back Jonathan Bernier from the Leafs, even at a substantial cap-hit so that they would have a backup capable of playing 25-30 games and helping them into the playoffs.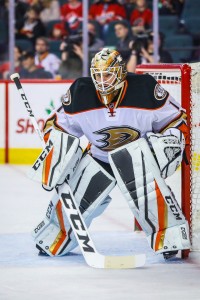 Bernier was never expected to wrestle the starting job away, but when the young Gibson went down with an injury in late February he was forced into the number 1 role and has flourished ever since. With Gibson returning for one game this month only to re-aggravate his injury, the Ducks will use Bernier down the stretch to get them into the playoffs. Since Gibson went down on February 20th, Bernier has posted a .943 save percentage and is looking like a realistic choice to start the playoffs if his partner isn't fully healed. Gibson for his part hasn't returned to practice, though Eric Stephens of the Orange County Register reports that he has skated on his own.
With ten games left in the Ducks' season before another playoff appearance, some doubt may now be entering the mind of head coach Randy Carlyle on who will be his starting goaltender in the postseason. Should Gibson miss most of the remaining few weeks, it would be hard to reinsert him into the net for the first round. That is where we (finally) get to the headline and the potential for a lost asset for the Ducks.
When they took Bernier from the Maple Leafs, it was for a draft pick with conditions that seemed so unlikely to trigger that they didn't look like they would have to send anything to Toronto at all. Those conditions are based on Bernier playing in at least 50% of the Ducks playoff games, and the team getting to the Stanley Cup Final; they'll give up a second-round pick should they win it all, while surrendering a third-rounder if they fall in the final series. With Gibson ready to take over that seemed like a far fetched condition and one that Bernier showed little capability of fulfilling during his final season in Toronto. But now, as he looks like the goaltender everyone thought he would become in Los Angeles, it doesn't seem as insane as it once did.
After all, he doesn't necessarily need to get them the entire way. He could play just the first two rounds before Gibson returns, and still qualify for the condition. Sure, some may say it's worth it if the Ducks are going to go to the Finals anyway, but that shouldn't reduce the value of the pick being lost. Ducks fans should be hoping even more that Gibson is ready to go next month, while Maple Leafs fans are praying that their old teammate can give them one last gift before hitting free agency this summer.