The trade deadline has now come and gone but that hasn't stopped there from being any key storylines throughout the hockey world.  Here are five from the week that was.
1) News From GM Meetings – There weren't many proposed changes coming from the GM meetings but there will be a couple of recommendations for next season.  It was suggested that teams should no longer be able to use a timeout following an icing while the managers would also like to see some tweaks to the bye week system.  Surprisingly, there wasn't enough support to recommend any changes to the offside rule, one that has come under fire more frequently with the challenge system.  The league also suggested the salary cap should come in between $75.5MM-$76MM but that's assuming that the NHLPA exercises their full 5% inflator.  Given the state of escrow at the moment, that's no guarantee.
2) Bettman Comments On Glendale – The trouble surrounding the Coyotes and their arena situation has been well documented.  NHL Commissioner Gary Bettman entered the discussion on Wednesday, issuing a letter to Arizona officials detailing why the team needs a new home in the area.  While some have suggested the team could and should remain in Glendale but Bettman is certainly not a fan of that option, stating that "The Coyotes cannot and will not remain in Glendale".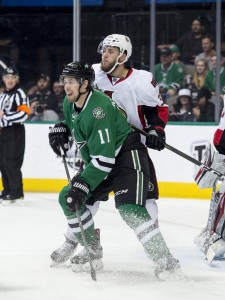 3) Stars Extend Two – Dallas, in need of having some NHL forwards eligible to be exposed in June's Vegas expansion draft, inked a pair of wingers to contract extensions in Adam Cracknell and Curtis McKenzie.  Both players received one year deals worth $675K and $700K respectively.  Each team must expose at least two forwards who have played either 40 games this season or 70 over the past two years combined.  McKenzie meets the first requirement while Cracknell fulfills the latter.
4) Vegas Signs Their First Player – Speaking of the Golden Knights, they completed their first transaction in franchise history, signing Reid Duke to a three year, entry level contract.  Duke was a 6th round pick of the Wild back in 2014 but didn't sign and is in the middle of his final WHL season with Brandon.  He already has set career highs in goals (36), assists (34), and points (70) through 56 games with the Wheat Kings this season.
5) College Free Agency Opens – NCAA teams are starting to be eliminated from their playoffs and as a result, the free agent market is beginning to open up.  The Capitals struck early, agreeing to contracts with defenseman Kristofers Bindulis and winger Hampus Gustafsson.  Both deals begin next season and each player will report to AHL Hershey for the rest of this year on amateur tryout contracts.  With more teams being eliminated next weekend, several more players are expected to sign in the coming days.
Photo courtesy of USA Today Sports Images.