After taking up four different thoughts in Elliotte Friedman's latest column on Sportsnet, Marc-Edouard Vlasic spoke to Curtis Pashelka of The Mercury News about his desire to stay a San Jose Shark for his entire career.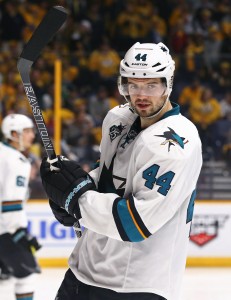 I like the team, I like the area. We're competitive every year, and at the end of my contract next year, I'll have been here 12 years. I guess I do like it here if I've been here 12 years. Yeah, if [staying in San Jose] works out, that'd be great. It's a priority.
Vlasic's contract is up after next season, when he'll be 31. Earning only $4.25MM per season on his current deal, Vlasic has been one of the best bargains in the league for the Sharks. A model of consistency, Vlasic has never averaged less than 20 minutes per night for the Sharks, including his rookie season when he was just 19-years old. He draws the tough assignments night in and night out, allowing other players—namely Brent Burns—to feast on the easier matchups.
While Vlasic still will garner very few headlines, his relatively low cap-hit has allowed the Sharks to build a defense corps that is one of the best in the league. Next season when Burns' eight-year, $64MM extension kicks in the team may need to rework their group if they have any chance of signing Vlasic long-term. Both Joe Thornton and Patrick Marleau are unrestricted free agents, and may have to settle for one-year deals if they want to stay in San Jose. If Vlasic is starting a new contract in 2018-19 at the same time Tomas Hertl, Dylan DeMelo and Martin Jones all need raises, there won't be room for the pair of 37-year olds.
It's not many players who complete their whole career with one team, but if the Sharks do offer Vlasic a five or six year deal perhaps he will be one of them. His steady presence has been a big part of their success over the past decade, missing the playoffs just once during his tenure. If he ever did hit free agency, there would likely be 30 other teams waiting to knock on his door and bring him into the fold.