Jarome Iginla has waived his no-trade clause and agreed to go to the Los Angeles Kings.  In return, the Avalanche will receive a conditional fourth-round draft pick in 2018. The Avalanche will also retain half of Iginla's salary for the remainder of the season. If the conditions—which are still unknown at this time—aren't met, the draft pick could actually disappear entirely.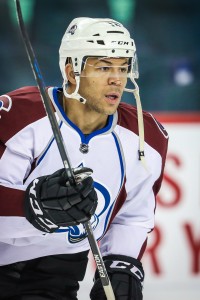 As we wrote recently, Iginla might still have something in the tank for another run at the Stanley Cup this season. While he's no longer a top-line player, he can likely still contribute in a smaller role. Darryl Sutter, the head coach of the Kings spent three seasons coaching Iginla in Calgary over a decade ago, which included heading to the Cup final in 2004.
The 619-goal man will try to find some of his old style in Los Angeles, as he has completely lost his game this season. With just 18 points in 61 games, it is by far the worst season of his career. The Kings will hope they get last year's version of Iginla, the one that scored 22 goals and was deadly on the powerplay.
Los Angeles currently sits just outside the playoff picture in the Western Conference, battling with the St. Louis Blues and Iginla's old Flames. In fact, Iginla will have to play Calgary three times down the stretch to try and knock them out of a playoff spot. The Kings obviously believe that Iginla can help them more than Dwight King, who they shipped out to Montreal minutes earlier for the same return.
For Colorado, getting anything back for the expiring veteran is a good thing. While a fourth-round pick isn't a game changer for the franchise, it does help them restock and rebuild. If the team does decide to trade Matt Duchene and Gabriel Landeskog, they'll likely be going for a slow-burn on their future, stockpiling picks and teenage prospects.
Pierre LeBrun of TSN was first to report the deal was being finalized, while Darren Dreger of TSN  gave us details on the return.
Photo courtesy of USA Today Sports Images