A few weeks ago Zach Leach profiled one of the greatest goal scorers in NHL history, Jarome Iginla. He started the piece by saying that Iginla was "a legend with very bad luck" and though he was talking about Iginla's career, and how close (but yet so far) he has come on several occasions to being in the right place at the right time, he could have easily meant something else that teams should consider when looking at the 618-goal man this trade deadline.
No, it's not his age—the fact that he'll turn 40 this July is something everyone should be aware of, but not what this piece will be about. Not his cap hit either; the $5.33MM number is a tough pill to swallow for sure, but at least it expires at the end of the year. It's his shooting percentage. Sure, Iginla might be a step slower than he has been in the past, and perhaps this legend is ready to ride off into the sunset. It's just that there may be something left in the tank.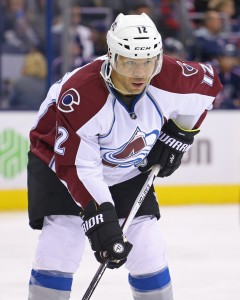 First of all, he's playing on Colorado which has been a deathtrap for offensive players all season. Whether it's the coaching of Jared Bednar, the horrible possession metrics almost everyone has put up, or some toxic attitude leaking down from the front office, nearly everyone has been underperforming. Matt Duchene is on a 52 point pace, which would be the lowest he's recorded for a season where he played more than 70 games. Gabriel Landeskog may not crack 40, well below his career average. Even Nathan MacKinnon, who is currently leading the team in scoring doesn't look like he'll improve much on his 52 point effort from a year ago, in which he played only 72 games.
Iginla is right there along with them, scoring just 16 points in 58 games. But what do you expect from a guy who has lined up beside John Mitchell and Blake Comeau for most of the season, a duo that has a combined point total of 15. He's also been given the least amount of icetime of his career, playing just 14:45 per night. Perhaps this is just because he's no good anymore, but there may be a silver lining.
Yes, that's the shooting percentage which currently sits at 6.1%, less than half of his career rate. He's still generating shots, with 114 on the year but just nothing is going in for him. He's on pace to almost match the shot total from each of the last two years, when he had 29 and 22 goals respectively, and doing it with much worse linemates. No, he'll never be a defensive presence that drives possession, but he can be a goal scoring threat even at his advanced age. If he sat at his career shooting percentage we'd be talking about a 15-goal scorer instead, despite Mitchell and Comeau still being alongside him.
Playoff experience can't exactly be quantified, but anecdotally the game slows down in the postseason. When the whistles are put away, a bit more obstruction takes place and physical goal scoring threats are extremely important. Iginla has scored 37 playoff goals in just 81 games, a better per-game pace than Sidney Crosby. It's not that he'll continue to be a legendary goal scoring threat, just that he may still be a fine secondary option for a team looking for some depth on the wing. He won't cost much, and he might just get that one last chance at a Stanley Cup.