After missing 15 straight games, it looks like Stars defenseman Johnny Oduya is set to rejoin his team. Mark Stepneski of the Stars official website tweeted that the team has activated their alternate captain from the injured reserve.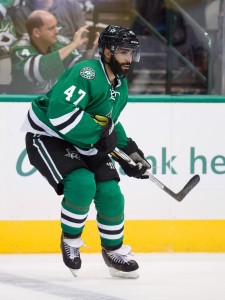 Oduya was originally placed on the injured reserve with a lower-body injury in mid-January. The 35-year-old has battled ailments throughout his second season in Dallas, and those injuries have clearly played a role in his production. In 36 games, Oduya has only recorded one goal and six assists, as a well as an underwhelming 20 hits. Still, as our own Zach Leach pointed out, the veteran is a very useful piece for the youthful Stars defense, and they've clearly struggled without their leader on the ice. In the 15 games that Oduya has missed, the Stars have limped to a 5-10 record.
With the trade deadline approaching, the defender could actually be on the move, as our own Brian La Rose wrote earlier this month. The player is in the final year of a two-year, $7.5MM deal, and his $3.75MM cap hit certainly isn't impossible to trade. Oduya could provide some veteran leadership to a team seeking defensive reinforcement. On the flip side, Dallas is still within striking distance of that second Western Conference wild card spot.