With the trade deadline quickly approaching, we will be profiling several players in the weeks ahead that are likely to be dealt by March 1st.
Things haven't gone well for the Dallas Stars and defenseman Johnny Oduya this season.  Accordingly, he's likely to be on the move by the March 1st trade deadline and will be one of the most experienced blueliners on the market.
Contract
Final year of a two year, $7.5MM deal ($3.75MM cap hit and salary) – Will be a UFA in July.
2016-17
Staying healthy has proven to be a challenge for Oduya this season.  He missed ten games with an ankle injury early in the year and re-aggravated that issue in late January; he has been out of the lineup since then and there's no word on when he may return.
When healthy, Oduya hasn't quite been the stabilizing presence that he has shown himself to be in previous seasons.  At the age of 35, that's somewhat understandable but as a result, his average ice time has dropped to a career low as he has been deployed in more of a fourth or fifth blueliner role.  However, he remains a penalty kill specialist in particular as he leads the Stars in shorthanded playing time per game.
Season Stats
36 GP, 1 goal, 6 assists, 7 points, even rating, 10 PIMS, 23 shots, 80 blocks, 18:10 ATOI, 47.3 CF%
Potential Suitors
Assuming he's back in the lineup (or at least close to receiving a clean bill of health) by the deadline, there should be several teams interested in adding some playoff-tested depth to their back end.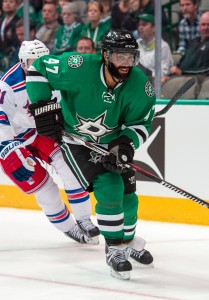 In the East, the surging Senators are in good shape in their top four but could use someone like Oduya to help strengthen their bottom pairing.  They have the cap space to add him but will ownership be willing to give them some more room in the budget to work with?  A similar argument can be made for the Blue Jackets who could use a boost on their bottom pairing while giving them more depth to work with.  They're not the most experienced of teams in the playoffs either so that may be another point of interest for them.  Canadiens GM Marc Bergevin is familiar with Oduya from his days in Chicago and though he's not the top pairing partner for Shea Weber that they need, he'd still represent a defensive upgrade.
Out West, the Blackhawks could very well look to repatriate him.  Their depth on the back end is thin and they could use a reliable presence on their third pairing to take some of the pressure off their top four.  As is always the case with Chicago though, money is a concern and GM Stan Bowman has indicated that he'd prefer to not move draft picks this year with them hosting the draft which could complicate things.  Calgary is in need of a second pairing upgrade and they could view him as worthy of a try there.  While several youngsters for the Kings have fared well as of late, they could opt for a more proven option for the stretch run as well.
Likelihood Of A Trade
With Dallas seeing their playoff hopes fading and the fact they have some youngsters they would be wise to give more ice time to in the next couple of months, there's a very good chance he is dealt unless his ankle injury winds up being worse than is currently being reported.  Although Oduya hasn't played as big of a role this year compared to previous seasons, his defensive play and postseason experience should make him one of the more sought after defenders on the market.
Photo courtesy of USA Today Sports Images.