Despite having the most points in their conference, the Wild have decided to shake up their roster. The team has announced that they've recalled top prospect Alex Tuch and winger Zack Mitchell from the Iowa Wild of the AHL. To make room on the roster, the team has placed forward Tyler Graovac on waivers and placed defenseman Jonas Brodin on the injured reserve (retroactive to January 18th).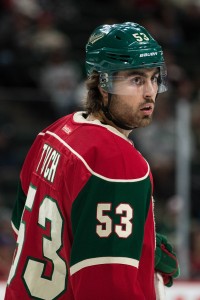 Tuch, who was selected 18th overall in the 2014 draft, will be receiving his second career cup of coffee. The 20-year-old appeared in three games for the Wild earlier this season, averaging a bit under 12 minutes per game. The talented offensive weapon failed to record a goal or assist during his brief cameo, but he has compiled 12 goals and 13 assists in 36 games for Iowa this season. Dane Mizutani of TwinCities.com notes that Tuch was practicing alongside first-liners Eric Staal and Nino Niederreiter during Monday's practice.
Mitchell, 24, made his NHL debut earlier this season with the Wild, compiling zero points in 10 games. The former undrafted player has spent the past two-plus seasons with Iowa, and he's compiled eight goals and six assists so far this season.
The team may have placed Graovac on waivers, but Mizutani notes that the squad is assuming that he'll go unclaimed and ultimately land with Iowa. On the flip side, Jason Brough of Pro Hockey Talk writes that Graovac's affordable contract (including a $625K cap hit for next season) could be enticing to some teams. The transaction is also an indication that the organization would like Charlie Coyle to get more reps at center.
The 23-year-old has spent much of the season on the Wild's fourth-line, collecting three goals and one assist in only six games. Prior to this season, the 2011 draft pick has played in five games for the Wild between two seasons.
Brodin has missed the past 12 games as he's recovered from a fractured finger. The former first-rounder was logging a career-low 19:47 minutes per game, but his offensive production was approaching career-highs. After having never finished with more than 19 points in his previous four seasons, Brodin had already scored three goals and provided 13 assists in 43 games this season.