Friday featured a couple trades as the trade deadline approaches. Here's another look at what went down today, and what it could mean for both teams down the road.
Trade #1: Anaheim acquires Eaves
Ducks Receive: F Patrick Eaves
Stars Receive: 2017 2nd round pick (conditional)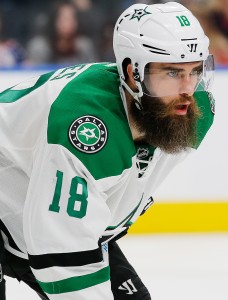 The Details: This could be a huge win for both teams should the Ducks see the playoff success they hope for. Eaves has had a tremendous season, netting 37 points (21-16) for a Stars team that could never turn the corner. Eaves brings another dimension of scoring for the Ducks who are looking up at the Sharks and Oilers. The Stars did well, too, snaring a 2nd round pick at the very least for a player who only had one 20-goal season until this year. Should the Ducks advance to the Conference Finals, Eaves needs to play in at least 50% of those games for the 2nd rounder to turn into a first.
Who wins? It all depends on how far the Ducks advance. It's a win-win should the Ducks go to the Conference Final or beyond since the Stars have a second round pick become a first. If Eaves bolsters their scoring or has a good playoff, it helps the Ducks case in dealing away a second round pick. Should they get bounced in the first round or Eaves not help out as anticipated, it would be a slight nod to the Stars.
Trade #2: Chicago acquire Jurco
Blackhawks receive: F Tomas Jurco
Red Wings receive: 2017 3rd round pick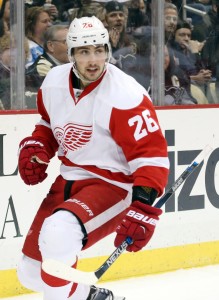 The Details: The Red Wings and Tomas Jurco never worked together. A highly touted prospect, Jurco never gave the Wings what they sought while the Wings never gave Jurco the ice time or playing time he expected. Enter the Blackhawks. Chicago dealt a third round pick for the 24-year-old winger, who can slide in nicely on the third or fourth line that is less about grit (unlike Detroit) and more about goal scoring and puck possession. Two seasons ago, Jurco netted eight goals in 36 games. The Blackhawks boast a much stronger roster than the Red Wings, and it could be a steal if Jurco lives up to the potential many thought he had.
Who wins? If Jurco flourishes in Chicago, it's an absolute win for the Hawks. Still young, Jurco never really broke into the lineup despite being known for his puck possession prowess. While Ken Holland is known for letting his prospects "over-ripen," this seemed to be an "over-done" situation in Detroit. Regardless, they still got a third round pick for a player they would have most likely lost this summer. Another way of looking at it? The Wings weren't playing him regardless, and getting a third round pick is an absolute win.  Should Jurco be a regular contributor for Chicago, a third round pick suffices as a nice giveaway and pickup for both teams.