The Dallas Stars have traded Patrick Eaves to the Anaheim Ducks for a conditional second-round pick. The pick turns into a first rounder should the Ducks reach the conference final with Eaves playing in at least 50% of their playoff games. If that doesn't happen, the second rounder will be the same pick Toronto sends to Anaheim to complete the Frederik Andersen trade from last summer. That pick is the "middle" one from Toronto's three seconds—Ottawa, Toronto and San Jose.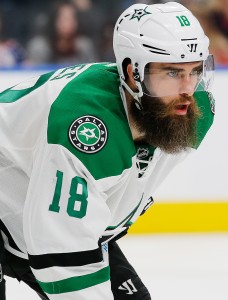 Eaves was profiled by our own Zach Leach recently, who actually mentioned Anaheim as a potential match for the winger while we also listed a top-six winger as the biggest need for Anaheim during our deadline primer series. The fact that Anaheim addressed their biggest weakness without dealing from their group of young defensemen is a huge boost for a team looking to make another deep run in the playoffs. Though a first would be a costly price should the team make it to the third round and lose, a late second is palatable for a player of Eaves quality.
The pending unrestricted free agent signed his third straight one-year deal with the Stars on July 1st this summer, and has paid off in spades for the club. With 21 goals and 37 points in 56 games, Eaves has jumped onto the top line for the Stars and looked right at home. His ice time has reached a career high, and he's been a deadly weapon on the powerplay, notching 11 goals with the man advantage.
While his history should make the Ducks and their fans a little wary about installing him on their top line right away, he has proven to be a capable defender in the past as well and should help their weakened top-six. With Rickard Rakell recently moving back to center for the suspended Antoine Vermette, there was a hole there for the team to fill. The fact that they've done it early gives them a little more negotiating power in any discussions about their young defensemen, as they now don't need a winger desperately in return.
With the move, Eaves has positioned himself even better for another run at free agency. He was already likely deserved of a multi-year deal after his first half with the Stars, but if he can help the Ducks on a deep playoff run while playing with another exceptional center—whether it be Ryan Getzlaf or Ryan Kesler—he'll be able to sign one last deal before retirement. He'll be 33 in just over two months.
Photo courtesy of USA Today Sports Images