The San Jose Sharks announced that they have signed an eight year extension with defenseman Brent Burns.  ESPN's Pierre LeBrun was first to report that the deal was done (Twitter link).  LeBrun also adds that the deal is believed to carry a cap hit of $8MM.  Earlier today, it was reported that that the two sides had made considerable progress towards a new deal.  In a follow-up tweet, LeBrun notes that the deal is front loaded and contains signing bonuses.  He also will not have a no-move clause but will have a limited no-trade clause.  Sportsnet's Chris Johnston reports (via Twitter) that Burns has a three-team trade list.
The breakdown of the contract is as follows, per CapFriendly:
2017-18: $3MM salary, $7MM signing bonus
2018-19: $4MM salary, $6MM signing bonus
2019-20: $5MM salary, $5MM signing bonus
2020-21: $2MM salary, $8MM signing bonus
2021-22: $4MM salary, $3.5MM signing bonus
2022-23: $3MM salary, $3.5MM signing bonus
2023-24: $3MM salary, $2MM signing bonus
2024-25: $3MM salary, $2MM signing bonus
GM Doug Wilson issued the following statement as part of San Jose's announcement:
"Brent is one the most dynamic players in the National Hockey League and we're very excited to get this deal done.  He has worked extremely hard to be an elite defenseman and at six-foot-five, 230-pounds, his abilities on this ice are unique and rare. I also want to thank Hasso Plattner and our entire ownership group for their commitment to our franchise and the fans in San Jose by stepping forward and making this commitment to Brent."
Burns has evolved into one of the NHL's elite defensemen after being converted back to the back end following the 2013-14 season.  Two years ago, he posted a career high of 60 points and then followed that up with a 75 point campaign last season, the second highest point total among NHL defenders.  That earned him a nomination for the Norris Trophy for the top defenseman in the NHL; he finished third in the voting.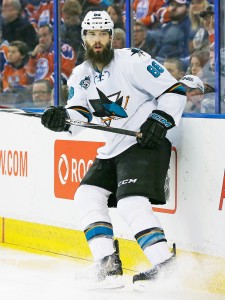 The 31 year old is off to another strong start this season with seven goals and nine assists in 19 games to lead all NHL blueliners in scoring.  In 815 career NHL games, Burns has 437 points (147 goals and 290 assists) along with 535 penalty minutes.
While the cap hit of $8MM per season isn't too surprising, him getting eight years may catch some by surprise.  He'll now be paid through his age 40 season and it's very rare for defensemen to remain elite into their early 40's.  However, as is often the case with long-term deals for veteran players, the Sharks are likely content with the risk knowing that Burns is currently in the prime of his career.  Back in September, we took a closer look at his contract situation and projected a seven year extension with an AAV of $7.875MM.
His $8MM cap hit places him second in the NHL among defensemen behind Nashville's P.K. Subban ($9MM) and just ahead of Montreal's Shea Weber ($7.857MM).
The deal takes the best blueliner (and arguably the best pending unrestricted free agent period) off of the market next summer.  Kevin Shattenkirk (St. Louis), Dmitry Kulikov (Buffalo), Andrei Markov (Montreal), and Michael Stone (Arizona) are among the prominent pending UFAs on the back end at the moment.
The Sharks can now turn their focus to their two other prominent pending UFAs up front in forwards Joe Thornton ($6.75MM) and Patrick Marleau ($6.67MM).
Photo courtesy of USA Today Sports Images.