While the opening of the 2017 free agent period is still over nine months away, many teams will be looking to discuss new contracts with players whose contracts expire next July 1st to see if they can come to terms on an extension now.
One player that San Jose will undoubtedly be planning to try to get an extension done with is defenseman Brent Burns.  Since being moved back to the blueline following the 2013-14 campaign, Burns has quickly become one of the most dominant defensemen in the NHL and he stands to become an unrestricted free agent after 2016-17.
2015-16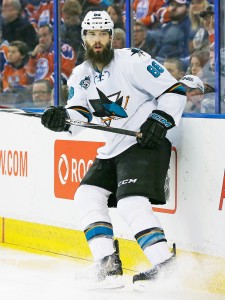 Last season was a banner year across the board for the 31 year old.  Not only did he set career highs across the board offensively, he also logged 25:52 of action per game, the highest average in his career.  Burns played in all 82 games for the second straight year, scoring 27 goals and 48 assists; his 75 points ranked second amongst all NHL blueliners.  For his efforts, he was named to the NHL's Second All-Star Team and finished third in Norris Trophy voting.
His strong play carried over into the postseason as he played at a point per game average while playing on the top pairing.  In 24 games, he tallied seven goals and 17 assists in 25:07 of ice time per contest as the Sharks reached the Stanley Cup Final for the first time in franchise history.  His strong play earned him a spot on Team Canada for the World Cup of Hockey.
Statistics
2015-16: 82 GP, 27 goals, 48 assists, 75 points, -5 rating, 53 PIMS, 353 shots on goal
Career: 797 GP, 141 goals, 282 assists, 423 points, -1 rating, 531 PIMS, 1,919 shots on goal
The Market
Burns is a unique player which creates some challenges when trying to assess his market value.  Two years ago, his career high in points was 48, scored in a season where he spent time at right wing, an entirely different position.  Now, he's an imposing presence at both ends of the rink and among the highest scoring defenders in the NHL.  Despite the sudden jump in productivity, it's safe to anticipate that his strong output should continue for a few more years.
The next question becomes how long will a new contract be?  He will be 32 when his next deal will kick in so a max eight year deal will take him to age 40.  That might be a bit long for San Jose's liking as no matter how good Burns plays at the beginning of the contract, his play will likely have tailed off considerably by the time eight years go by; it's extremely rare for elite defenders to still be elite at that age.  However, Burns is undoubtedly going to be looking for long-term security so the Sharks will likely have to give him a near-max term at the very least to get him to sign now.
Comparable Contracts
Dustin Byfuglien (Winnipeg): Five years, $38MM ($7.6MM AAV) – In terms of playing style, there are some strong comparisons to be made.  Both players have a booming point shot, aren't afraid to jump up in the rush, and bring an imposing physical presence on the back end.  Up until last season, their point totals were somewhat comparable as well but Burns is coming off a much better 2015-16 campaign (75 points vs 53).  Byfuglien is 31 now and begins this contract in 2016-17 but at only five years in length, there are no real cheap years tacked on to lower the cap hit.
P.K. Subban (Nashville): Eight years, $72MM ($9MM AAV) – At the time this deal was signed, significant annual increases in the salary cap were expected, making this deal a projected baseline down the road.  That hasn't happened and accordingly, no blueliner has passed that cap hit since then.  There's also a considerable age gap between when this deal was signed (25) and when the new contract for Burns kicks in (32).  In Subban's deal, the expectation is that he will be in the prime of his career for the duration while the same can't be said for Burns, making it difficult to anticipate that he will be able to surpass that AAV.
Other elite blueliners such as Erik Karlsson of the Senators or Drew Doughty of the Kings are comparable in terms of their overall impact but their deals are currently below market value and really won't be considered if and when the two sides talk extension.  Montreal's Shea Weber is the only other long-term deal in the dollar range that Burns is likely to get and the type of contract he has is now illegal in the CBA.
Projected Contract
While it's tough to expect Burns to put up 75 points each season, he's a strong candidate to be among the top scoring defensemen for quite a few years to come so he should be in line for a big ticket deal.  It's likely that he'll want the maximum eight year term but the Sharks may not be willing to go that long at this time.  A seven year deal is certainly a possibility as that would take Burns up to retirement while making it that San Jose isn't paying him in his age 40 season.
Projection: Seven years, $55.125MM ($7.875MM AAV), front-loaded so that the salary in the back years is more commensurate with the potential decline in his game/role at that time.
Photo courtesy of USA Today Sports Images.