The Athletic's Scott Powers was kind enough to sit down with Pro Hockey Rumors and answer some questions about the Chicago Blackhawks as the season approaches the 25% mark. Answered were a varying array  of questions, from the Blackhawks jump to the top of the West to the likelihood of Artemi Panarin re-signing with the Hawks. Make sure to follow Scott on Twitter (@ByScottPowers) and also read his work at the Athletic.
PHR: Everyone expected a good season from the Hawks, but the main questions rotated around the kids being infused into the lineup. How do you think those kids have done? 
Powers: The kids have had varied results, but the Blackhawks have to be pleased about their early play. The start of the season could have been a disaster if those younger players didn't carry some weight. It says something that the Blackhawks have yet to recall anyone from the AHL.  As expected, too, those younger players are beginning to improve. Ryan Hartman has played well. Tyler Motte showed some early signs before his injury. Vinnie Hinostroza broke out with a three-point game last week. Nick Schmaltz is getting a chance on the top line. Gustav Forsling is still working some things out, but he's also a 20-year-old defenseman.
PHR: At the 25% mark of the season, Chicago looks like the team to beat. Teams who were supposed to challenge have either underachieved (Nashville), or been ravaged by injury (Dallas, and Los Angeles). Who do the Hawks need to watch, and how can the Hawks upgrade before or at the trade deadline—-if they choose to?
Powers: I feel like it's still too early to really gauge the contenders and pretenders. Even with the Blackhawks, they have certainly played well, but plenty of people are still skeptical about them. They have some inflated stats that may even out over time. I think you can say who likely isn't going to contend after 20 games when you look at the bottom of the divisions.
Overall, though, I'd wait until 40-plus games to start talking about who is going to challenge whom. As for upgrading, I really don't expect the Blackhawks to be active at the trade market. Their salary cap situation is as tight as it's ever been. They don't have the financial space to make a trade unless they move someone with a significant cap hit. The Blackhawks' hope has to be their younger players continue to develop and make the team better throughout the season.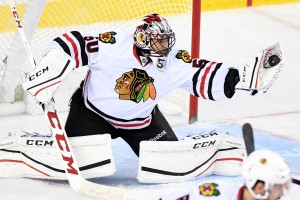 PHR: If Corey Crawford keeps up this pace, it's highway robbery if he doesn't win the Vezina, right? And outside of Crawford, who has been indispensable for this team?
Powers: You never know with the Vezina. The NHL general managers vote on it, and they almost always go with the goalie who has the most victories. It's obviously not the best way to measure a goalie's play, but I don't see it changing. But, yes, Crawford's been outstanding. The last two years he's really been an elite goaltender. He's shown that during some of the Blackhawks' playoff runs, but his overall numbers had suggested he was a slightly above average goalie. He's elevated his standing now. Aside from Crawford, it's been the usually suspects. Patrick Kane, Panarin, Artem Anisimov and Marian Hossa are playing well among the forwards. With the defensemen, it's depended on who has been paired together, but Michal Kempny and Brent Seabrook's play has been pretty consistent.
PHR: Artemi Panarin is having another great season. Could a bridge deal get done to keep him in the fold, does he take a hometown discount, or do you see him holding true to the reports of $6MM per season? 
Powers: I wrote about the Panarin contract at length today. He's not looking for a bridge deal. He's also probably worth more than $6MM. There are a lot of different factors and I explained in today's story, but it'll be interesting to see how it play out. He may take a bit of a discount to stay in Chicago, but it won't be significant. I don't think he owes that to the Blackhawks either. He's not real young at 25 and wants to get paid.
Photo Courtesy of USA Today Sports Images.