According to Darren Dreger of TSN, free agent defenceman James Wisniewski has signed a deal with the Vladivostok Admirals of the KHL. The deal will include an NHL out clause, meaning the former Blue Jacket could bolt if a spot opened in North America.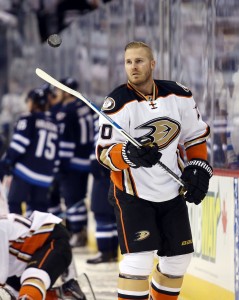 Wisniewski was a journeyman defender that played for five teams in four years before settling in Columbus for a few seasons. During his years there, he continued as an excellent offensive contributor, matching a career high of 51 points in 2013-14. "Wiz", just hasn't been able to stay healthy throughout his career though, and played only a single game last season.
The 32-year old was only able to secure a PTO from the Lightning this summer, but was released after not showing enough to make the NHL squad. While his intent is still to return to the NHL, Russia offers an opportunity to make some money while keeping his skills sharp. Vladivostok is the home of other NHL defenders, including Jonathon Blum and Anton Volchenkov. Wisniewski's strong first pass should play well on the bigger ice surface.