Restricted free agent Nikita Kucherov has signed a three year deal with the Tampa Bay Lightning that will pay him $4.766MM per season. The two sides completed a 'bridge-deal', after discussing long-term options. Yesterday, Bob McKenzie reported that Kucherov was on his way back to North America to sign a deal, and today we get the details on the contract.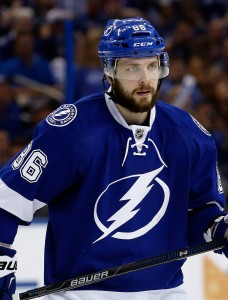 At $4.766MM for three years, Kucherov will remain a restricted free agent at the end of the deal. Both sides will have to get together and see if they can then work out a longer-term extension, one that would likely see the winger paid handsomely for his free agent seasons.
In the past two seasons, Kucherov has proven himself as an elite goal-scoring winger with seasons of 28 and 30 markers. His real impact though has come in the playoffs, where he has put up 41 points in 43 games, en route to multiple series victories. At just 23-years old, Kucherov looks like he'll be able to put up 30+ goals for the next decade, though perhaps they won't all be in Tampa.
The Lightning likely were exploring every avenue to open up more cap space, since this deal takes them right up to it as the season begins. The team now has under $800K, meaning they couldn't afford to buy out any of Kucherov's free agent years, which would have pushed the cap hit above $6MM.
This summer has been a great one for GM Steve Yzerman, who now has his top three players locked up long-term in Steven Stamkos, Victor Hedman and Kucherov. While Tyler Johnson, Ondrej Palat and Jonathan Drouin are all restricted free agents next summer, at least now he has some cost certainty (and cap savings, it seems) to work with.  All three deals have come in slightly below the expected rate, with each saying that playing in Tampa Bay together is a big part of why they signed. If they can build a core who want to stay together long-term, the Lightning will be a force to be reckoned with for the next while.