With the season now just a week away, the pressure for teams to come to terms with their remaining restricted free agents really starts to increase.  Calgary's Johnny Gaudreau is the most notable RFA left on the market.  Here is a closer look at his situation.
2015-16
Last season was Gaudreau's second in the NHL and he improved upon a strong rookie year with a stellar sophomore campaign.  He set career highs in goals (30), assists (48), and points (78) which not only gave him the team lead in scoring but also ranked him eighth overall in league scoring.  He also saw his ice time increase to 19:55 per game which was 13th highest among all NHL forwards.
Statistics
2015-16: 79 GP, 30 goals, 48 assists, 78 points, +4 rating, 20 PIMS, 217 shots on goal
Career: 160 GP, 55 goals, 88 assists, 143 points, +16 rating, 34 PIMS, 385 shots on goal
The Market
Unlike the other remaining RFAs, Gaudreau is not eligible to receive an offer sheet as he has not accrued three years of professional service time.  That really limits his leverage as GM Brad Treliving doesn't have to worry about another team swooping in and making an offer that's well above what they're willing to pay.  Basically, Gaudreau's only card to play is to hold out from signing until he gets the deal he's looking for (or close enough to it).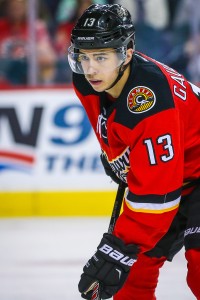 Various reports over the summer have Gaudreau looking for a max term eight year contract worth around $8MM annually.  That would make him tied for the 14th highest cap hit in the league this season with Pittsburgh's Phil Kessel.  All of the players with a higher cap hit are at least 27 years old; by comparison, Gaudreau is just 23.
Therein lies the problem.  With just two full seasons of NHL experience, Gaudreau doesn't have a long history of consistent production like those making the most money do.  The last two players to get $8MM or more on a contract just two years into their careers were Pittsburgh's Evgeni Malkin ($8.7MM) and Washington's Alexander Ovechkin (just over $9.5MM) and those deals were signed back in 2008 with both having a 100+ point season under their belts.  There simply isn't much precedent for handing out that type of money to a player with the type of production that Gaudreau has.
Comparable Contracts
Filip Forsberg (Nashville) – Six years, $36MM – Forsberg signed this contract back in the summer after two straight 60+ point seasons.  While Gaudreau out produced him, Forsberg also carries the pedigree of being a first round pick which often is worth some extra money.  That said, had this deal been the eight years that Gaudreau is seeking, the AAV would come in higher than $6MM per season.
Sean Monahan (Calgary) – Seven years, $44.625MM – This deal was signed about six weeks ago with Monahan being arbitration-eligible.  He's more of a well-rounded player than Gaudreau and is viewed as a possible captain of the future but Monahan's career high in points is 63, well below what Gaudreau was able to produce last season.
Vladimir Tarasenko (St. Louis) – Eight years, $60MM – The Blues gave Tarasenko this deal last offseason following Tarasenko's third NHL campaign, one in which he had just hit the 70 point mark for the first time in his career.  The Russian also has a similar profile to that of Gaudreau in that they're both offense-first players who aren't asked to log major defensive minutes.
By the way, the average cap hit for the seven players who finished ahead of Gaudreau in scoring last season is $7.04MM.
Projected Contract
Given that the season is nearing and the lack of precedent (and leverage), it's hard to expect that Gaudreau's next deal will start with an eight.  It's going to have to come down and the only question is how much.
The Flames undoubtedly would like to get a deal closer to that of Monahan's, locking up two key core forwards long-term at reasonable rates.  That may be a bit unrealistic as with offense at a premium, Calgary should have to pay more to get Gaudreau locked up than they did Monahan.
While it's believed both sides would be happy with a maximum eight year term, perhaps cutting a year or two off that term may help bridge the gap.  Those seasons would be years where he would have been eligible for unrestricted free agency and accordingly, the money in those years would be higher.  If fewer UFA years are bought out, that should bring the asking price down towards a more palatable AAV.
One way or another, something should give sooner than later although Gaudreau's agent noted to Sportsnet's Elliotte Friedman late last weekend that no talks had occurred since September 9th.  However, Eric Francis of the Calgary Sun reported that Treliving was expected to speak with Gaudreau and his agent on Wednesday.
Projection: Seven years, $49MM – It's a compromise on term and money as the Flames pay more than they did for Monahan while still giving Gaudreau one of the richer deals coming off a rookie contract in recent years.
Photo courtesy of USA Today Sports Images.