The New Jersey Devils have signed defenseman Kyle Quincey to a one-year, $1.25MM contract, according to their official website.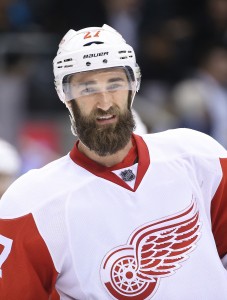 Quincey played 47 games with the Detroit Red Wings last season, scoring 4 goals and 11 points. The former 2nd round pick has played nine full seasons with the Red Wings in two separate stints, Colorado, and Los Angeles. Quincey has played 495 games and scored 30 goals and 140 points.
New Jersey is looking to boost their defense, after trading Adam Larsson in the off-season and replacing him with Ben Lovejoy. While Quincey isn't a perfect replacement for Larsson either, as their styles are not very comparable, there was a time when he was believed to be a key member of the Red Wings blueline. While his possession numbers have taken a dive in recent years, it's a worthwhile gamble for the Devils for just $1.25MM.
The Devils have approximately $11.41MM in cap space, according to Cap Friendly. Comparable contracts from the past off-season include Justin Schultz (one-season, $1.4MM), Tom Gilbert (one-season, $1.4MM), and Luke Schenn (two-seasons, $2.5MM). The contract represents a $3MM haircut for Quincey, who made $4.25MM per season for the last two years in Detroit.