After Jeff Carter pulled out earlier today with an injury, Mike Morreale of NHL.com reports that Team Canada has announced that Anaheim Ducks' forward Corey Perry will replace him on the roster.  Carter suffered what is being characterized as a "week-to-week" lower-body injury while training for the tournament, and thought better of risking further aggravation so close to the start of the season.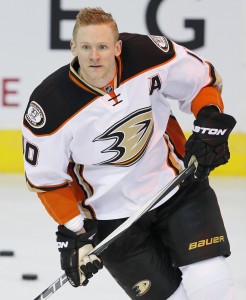 For Perry, it was surprising to many that he was left off the original roster after suiting up for Canada at the past two Olympic games, winning gold both times. Perry in fact has donned the red and white quite a few times during his hockey career, collecting a both World Junior and World Championship gold to go with the Olympic victories.
After what some characterized as a down year (which still saw him score 34 goals and 62 points), Perry was held to zero goals in the postseason as Anaheim was ejected in the first round by the Nashville Predators. A former 50-goal scorer, Perry will become just the second true winger (joining Brad Marchand) up front for the Canadians, and likely skate with teammate Ryan Getzlaf once again.
Taylor Hall is likely next in line should another forward succumb to injury before the tournament, though as Tom Gulitti of NHL.com points out the New Jersey Devils will be just fine with him getting an entire training camp to familiarize himself with his new team before playing on what will likely be the most successful team of his career thus far.
Photo courtesy of USA Today Sports Images.