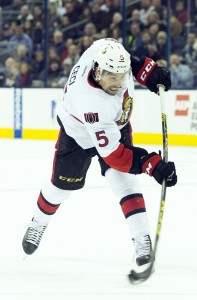 After negotiating for most of the summer, the Ottawa Senators have reached an agreement with restricted free agent defenseman Cody Ceci on a new two-year contract. The deal is worth $5.6MM in total, giving Ceci a $2.8MM cap-hit.
Ceci, 22, hit RFA status for the first time in his career after putting up back to back impressive seasons. His 26 points in 2015-16 ranked him second among Senators' defensemen (only trailing superstar Erik Karlsson) while skating with Patrick Wiercioch or Dion Phaneuf for most of the season. With Phaneuf signed long-term, expect Ceci to form a duo with the former Maple Leaf for years to come.
The deal is just for two years, as was reported months ago by Bruce Garrioch of the Ottawa Sun, and represents a bridge deal for the young defenseman. Still an RFA at the contract's end, Ceci will try to prove that he deserves a big-money deal to buy out a number of his free agent years. The problem is, that he'll almost assuredly never climb higher than the second pairing because he plays the same side as Karlsson. This may cause problems for the internal budget of the Senators down the road, with Phaneuf signed through 2020-21 at $7MM and Karlsson needing a new, even bigger deal after the 2018-19 season.
[Related: Ottawa Senators Updated Depth Chart]
According to Garrioch, Ceci's camp was looking for a six-year deal this time around, to lock up their client long-term with the club and buyout a few of his free agent years – the hesitation by the Senators is probably not due to a lack of trust in the player, but an uncertainty when it comes to their financial future. Owner Eugene Melnyk spoke at the end of the season about how important playoff revenues were to the team:
I'm looking at all of it, right across the board, nobody is safe when you have a year like we just did. The status quo would just get us there again next year and this team cannot survive not making the playoffs.

You can't just throw money at these things. We all know other teams that would just throw money at things for decades and they've gotten nowhere. We need to do it a different way and I think we are.
However the picture shakes out down the line, for now the Senators have locked up an important part of their blueline for the immediate future. With Marc Methot, the top four is essentially written in pen going into camp, with Ceci sure to see some time on the second powerplay unit as well.
Image courtesy of USA Today Sports Images.