While there was no hockey being played this past week, there were still some newsworthy events over the past seven days which are highlighted in our key stories.
Roster Freeze: Although players can sign contracts for next season, free agents can't sign deals for the 2019-20 campaign.  That's because the NHL has put a roster freeze in place, one that will presumably be in place until games are closer to resuming if things get to that point.  A total of 16 players were assigned to the minors including Anaheim's Kiefer Sherwood who was the only one to clear waivers.  Winnipeg was the only team to recall a player as Mark Letestu was brought back from his conditioning stint with AHL Manitoba without ever actually getting into a game.
Testing Positive: It was only a matter of time before an NHL player tested positive for the COVID-19 virus and that has come to fruition as the Senators announced that one of their players has the virus but did not identify who had it.  As it turns out, they had a second player test positive over the weekend.  Prior to the shutdown, Ottawa was on the road in California, one of the states that have been hardest by the pandemic.  In their second announcement, it was noted that six other members of the organization (not necessarily players) were also exhibiting symptoms and that they were waiting for testing results.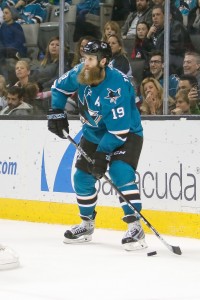 Thornton Hoping To Play Next Season: After he wasn't dealt at the trade deadline, Sharks center Joe Thornton expressed some disappointment that he wouldn't be able to get another shot at a Stanley Cup title.  Perhaps with that in mind, he indicated that his intention is to continue playing into next season which would be his 23rd in the league.  The 41-year-old has seen his production taper off considerably this year with seven goals and 31 points in 71 games, numbers that are well below his career averages.  He has shown a willingness to take cheaper deals lately and is making $2MM this season but he may have to take another pay cut to get a look next year with San Jose or another team.
Hobey Baker Finalists: The list of Hobey Baker candidates has been dropped from 78 midseason nominees to a group of ten finalists, headlined by Vegas prospect Jack Dugan who led the NCAA in scoring.  There are three players in that group that haven't been drafted or signed by an NHL team – centers Jason Cotton and Jordan Kawaguchi plus goaltender Dryden McKay.  This group of ten players will be whittled down to three by a selection committee plus a fan vote with voting set to end on March 29th.
World Championship Cancelled: It was a move that had been expected for quite some time but has now been made official – the IIHF has cancelled the 2020 Men's World Hockey Championship.  The tournament was slated to run in Switzerland in May but given all of the uncertainty and travel restrictions with the current pandemic, it was unrealistic to think that it could have been played as scheduled.  The 2021 event is slated to take place in Belarus and Latvia.
Photo courtesy of USA Today Sports Images.