While things were largely quiet on the trade front over the past seven days, there was still plenty of notable news around the league which are highlighted in our key stories.
COVID Outbreak In Vancouver: The Canucks have been hit extremely hard with a COVID-19 outbreak.  As of today, 16 players are on the CPRA list and are in quarantine protocol and that list doesn't include taxi squad players or coaches.  Their games have been postponed through April 6th but it feels like it's only a matter of time before that gets extended.  Vancouver has started recalling players from the AHL in order to try to field a full roster whenever they are cleared to resume play but after the North Division schedule was juggled when Montreal had to sit for a week, it will be facing another set of changes.  But for now, the focus is on hoping everyone affected by the outbreak comes out of it healthy.
Palmieri Scratched For Trade: Earlier this weekend, the Devils and Kyle Palmieri were expected to take one last run at hammering out a contract extension.  Evidently, those talks went nowhere as he was held out of New Jersey's lineup on Sunday in anticipation of a trade.  The 30-year-old is slated to become an unrestricted free agent this summer and while he's having a quiet year offensively with just eight goals in 34 games, his track record – at least 24 goals in each of the previous five seasons – should result in several suitors for his services.  With a $4.65MM AAV and an eight-team no-trade clause per CapFriendly, the Devils may have to work with Palmieri to find the right trade while some sort of contract retention will likely be necessary.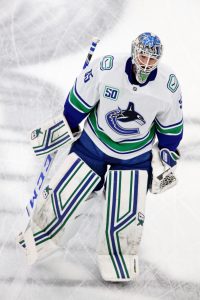 Five For Demko: For years, Canucks goaltender Thatcher Demko has been touted as Vancouver's goalie of the future.  He has lived up to those expectations this season and was rewarded for his efforts as he signed a five-year, $25MM contract extension.  The deal represents a substantial raise on his current $1.05MM cap hit but he has certainly earned it with his performance, posting a .917 SV% in 25 starts this season.  That number may not seem too strong on its own but Vancouver is allowing 3.24 goals per game and is in the bottom ten in the league in that department.  GM Jim Benning can now turn his focus to his other two prominent pending restricted free agents in Quinn Hughes and Elias Pettersson.
Gostisbehere Clears Waivers: It has been a steep fall from grace for Flyers defenseman Shayne Gostisbehere over the last few years.  After putting up 65 points in 2017-18, his numbers fell off sharply the following two seasons and this year, he had been a healthy scratch on several occasions.  Things got even worse from there as he cleared waivers on Wednesday.  Obviously, his $4.5MM price tag made a claim from most teams impossible but it's still a sign of how much of a hit his value has taken.  A few years ago, he would have fetched a sizable return on the trade market but now, Gostisbehere's deal looks like one where Philadelphia will have to include an incentive to simply find any taker for him.
College Free Agency: Two of the top players in college free agency are now off the market.  First, Jordan Kawaguchi inked a one-year, entry-level deal with Dallas that will be effective next season.  The 23-year-old finished fourth in NCAA Division I scoring this season with 36 points in 28 games after putting up 45 points in 33 games in his junior year to finish second in scoring.  The next day, arguably the top free agent on the market came off the board as the Panthers signed Matt Kiersted to a two-year, entry-level pact.  The 22-year-old was immediately inserted into Florida's lineup as he made his NHL debut on Saturday as they hope that he'll be able to help fill a small part of the void opened up with Aaron Ekblad's season being over.
Photo courtesy of USA Today Sports Images.