The Edmonton Oilers already need to reverse-sweep the Colorado Avalanche in order to keep their season alive, and they now might have to accomplish that feat without one of their best wingers. The NHL Department of Player Safety announced today that Evander Kane, the mid-season signing who has fit so well in Edmonton since his arrival, will have a hearing regarding his hit on Nazem Kadri, a boarding penalty that has knocked out Kadri for the rest of the Western Conference Final and perhaps even longer.
The hit in question happened only a minute into last night's game. Kadri was chasing a loose puck into the Edmonton corner, and Kane was pursuing him. As Kadri began to stop to retrieve the puck which had bounced to his left, Kane shoved Kadri and Kadri went tumbling into the boards. A nearby official immediately called for a penalty, and Kane was assessed a five-minute major for boarding.
Avalanche coach Jared Bednar referred to the play as "the most dangerous play in hockey," and Kadri's agent, Darren Ferris, took his comments a step further, calling on the league to "address the targeted hit" on his client, one that he deemed "serious and dangerously callous." ESPN's Greg Wyshynski highlighted a different line of thinking regarding the hit, relaying a sentiment from league sources that the hit was "reckless and unfortunate but not intentional."
Kane has a prior disciplinary history, racking up fines for elbowing and kneeing in the past as well as suspensions for things such as elbowing, cross-checking, and abuse of officials. Kane has also previously criticized the Department of Player Safety for its decisions, and it remains to be seen the effect Kane's prior actions will have on this upcoming decision.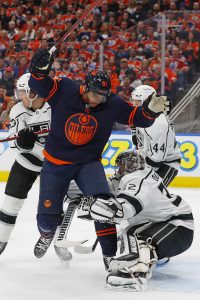 If Kane is suspended, the Oilers will find the prospect of scoring goals on Colorado to be even harder than it has been for the past two games. The typically lethal Oilers offense has been limited to just two goals in that time frame. Without Kane, who has been nearly goal-per-game in these playoffs with 13 in 15 games, getting back on track should be even harder.
Should the Oilers lose on Monday, this hit and likely suspension could cast a shadow on Kane's upcoming unrestricted free agency. As mentioned, Kane has been extremely productive in these playoffs and was nearly a point-per-game player in the regular season. Interested teams will have to balance Kane's undeniable offensive talent with his controversial off-ice reputation when considering pursuing him as a free agent. This hit and a potential upcoming suspension could end Kane's season on a decidedly sour note before a very important summer.
Photo courtesy of USA Today Sports Images