Edmonton Oilers CEO Bob Nicholson met with the media today, and immediately confirmed that GM Peter Chiarelli would be back next season. Chiarelli will retain the position as President of Hockey Operations, and "has a plan to get [Edmonton] in the playoffs next season." Nicholson did not, however, lend a vote of confidence to the coaching staff, instead saying that Chiarelli would evaluate all of them and make a decision.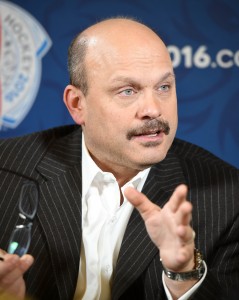 Chiarelli's tenure as a GM in the NHL has been checkered at best, with many fans pointing out the long list of star players he has traded away in the past. After the impressive MVP-worthy performance from Taylor Hall this season, that list—which also includes Phil Kessel, Blake Wheeler, Tyler Seguin, Jordan Eberle, Dougie Hamilton and others—was waved around as a reason to fire the veteran executive at the end of a disappointing year. The Oilers were expected to compete for the Stanley Cup, and instead found themselves missing the playoffs entirely despite an 108-point season from Connor McDavid.
Whatever plan Chiarelli has in place will be a difficult one to pull off. With McDavid's $100MM contract extension kicking in, the Oilers have almost $62MM in cap space tied up in just 14 players for the 2018-19 season. That's before they deal with restricted free agents like Ryan Strome, Anton Slepyshev, Darnell Nurse and Matt Benning, or any UFA signings they decide to make.
Obviously, the Oilers could bounce back and be one of the league's best teams next season. With McDavid and Leon Draisaitl leading the offense, and improvement from the blue line and in net could easily push them back into the playoffs. Still, betting on a turnaround from those two positions isn't exactly a plan, meaning there is something else coming for Edmonton in the next few months. If your mind immediately goes to Ryan Nugent-Hopkins and a potential trade, Chiarelli implied that he will not trade the young forward in yesterday's press conference.
Milan Lucic, Kris Russell, Andrej Sekera and Cam Talbot all hold no-movement clauses at the moment, and though Talbot's turns into a limited clause in the summer he is probably the least likely of the group to be moved. The other three don't carry much value in trade because of their high price tags and diminishing returns, meaning Edmonton would likely have to eat some salary in any potential move.
Nicholson praised Chiarelli's relationships with other GMs as a positive during the presser, indicating that it will help him turn things around through trade if he decides to. Though that may be true, it's not like other teams will be lining up to fix the problems with the Oilers roster. With a high draft pick and some interesting young talent, Chiarelli will be must-watch TV at the upcoming draft and free agency period.
Photo courtesy of USA Today Sports Images