Like Wayne Simmonds and Sergei Bobrovsky over the last few weeks, Jesse Puljujarvi has become the hockey world's favorite trade chip recently as the Edmonton Oilers search for help up front. According to several reports, the Oilers are all-in for the playoffs this season and are not willing to waste another year of Connor McDavid's prime out of the postseason race. Puljujarvi, likely because of Ryan Rishaug of TSN's report that the Oilers are willing to part with a "young developing forward," has become the piece most bandied about in trade speculation.
But would the Oilers actually trade a fourth-overall pick less than three years after selecting him?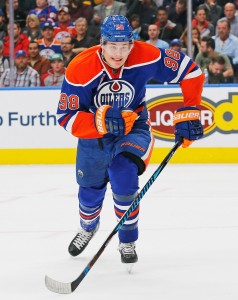 It's important to remember that Puljujarvi, the big talented Finnish winger, was expected to go third overall behind Auston Matthews and Patrik Laine at the 2016 draft. He had just finished a professional season for Karpat in the Finnish Liiga where he recorded an impressive 37 points in 60 games as a teenager and had won both U18 and U20 World Junior Championship gold medals. In fact, Puljujarvi was named the U20 tournament MVP after leading it in scoring with an incredible 17 points in seven games. It was hard to imagine anyone passing on him at #3, but the Columbus Blue Jackets did just that.
Blue Jackets GM Jarmo Kekalainen was roasted on draft night for selecting Pierre-Luc Dubois instead, opting to go after who he believed was the next best center in the draft. Dubois has since become a first-line staple for the Blue Jackets and has 40 points in 45 games this season. The 20-year old center could very well crack 30 goals and is a key reason why the Blue Jackets are heading to the playoffs this year.
Puljujarvi meanwhile has stagnated in Edmonton, bouncing back and forth between the NHL and AHL and recording just 35 points through his first 128 NHL contests. Even in the AHL the big winger isn't at a point-per-game pace expected of many top prospects.
In today's NHL that is becoming more and more populated by fresh faces right out of junior ranks around the world, it's easy to forget that not every player reaches his potential before the age of 21. Puljujarvi won't hit that age threshold until this May, and still has plenty of time to develop into the dominant, puck-possessing beast he had shown on the international stage. Whether the Oilers are willing to wait is the bigger question.
With GM Peter Chiarelli desperately trying to fix things in order to get McDavid and Edmonton to the playoffs—likely in order to save his own job as much as anything—the idea of trading Puljujarvi no longer strikes as unbelievable. Still, Elliotte Friedman of Sportsnet said on radio recently that the Oilers first-round pick might actually be the better trade chip at this point, given it could potentially be a lottery pick in the 2019 draft. It would be tough for the Oilers to accept that Puljujarvi brings back less than a draft pick regardless of how high, which may lead to them holding onto their young prospect and hoping his play rebounds.
Where do you think Chiarelli will land as the deadline approaches? Will Puljujarvi be dealt for an immediate upgrade? Or do the Oilers have enough other assets to improve the club for a 2019 playoff run?
[Mobile users click here to vote]
Photo courtesy of USA Today Sports Images