Navigating the salary cap is one of the more important tasks for any GM.  Teams that can avoid total cap chaos by walking the tightrope of inking players to deals that match their value (or compensate for future value without breaking the bank) remain successful.  Those that don't see struggles and front office changes.
PHR will look at every NHL team and give a thorough look at their cap situation for the 2022-23 season and beyond.  This will focus more on players who are regulars on the roster versus those who may find themselves shuttling between the AHL and NHL.  All cap figures are courtesy of CapFriendly.
Arizona Coyotes
Current Cap Hit: $65,578,566 (under the $82.5MM Upper Limit)
Entry-Level Contracts
F Dylan Guenther (three years, $894K)
F Matias Maccelli (one year, $853K)
F Jack McBain (one year, $884K)
D J.J. Moser (two years, $887K)
Potential Bonuses
Guenther: $850K
McBain: $850K
Moser: $32.5K
Total: $1.7325MM
Guenther is coming off a dominant season in the WHL but is in the situation that many NHL teams don't like for their top prospects – they might not yet be good enough to be in the NHL on a full-time basis but are too good to play in junior.  Unfortunately, there aren't other options.  Expect Arizona to drag out the time to get him to nine games so they can best assess whether he's going to stay for the season.  McBain signed quickly after being acquired last season and has held his own.  So far, he has had somewhat of a limited role which will likely have him heading for a bridge deal.  Unless both he and Guenther get big roles, they're unlikely to hit their bonuses.  Maccelli was quite productive in the minors last season although that wasn't the case in his NHL action.  Unless that changes this year, a bridge deal – perhaps even a one-year contract – will be on its way.
Moser came up midseason last year and didn't look back, quickly playing his way into a regular role.  His usage has been quite high early on (injuries are playing a role in that) but he looks like a long-term piece of the puzzle on the second pairing.  He could be a player that Arizona views as somewhat comparable to Mattias Samuelsson in Buffalo (seven years, $30MM) where they might overpay at the beginning in the hopes of having a bargain at the end when they're emerging from their rebuild.
Signed Through 2022-23, Non-Entry-Level
F Nick Bjugstad ($900K, UFA)
F Christian Fischer ($1.126MM, RFA)
D Shayne Gostisbehere ($4.5MM, UFA)
G Connor Ingram ($733K, RFA)
F Andrew Ladd ($5.5MM, UFA)
F Nick Ritchie ($2.5MM, UFA)
D Troy Stecher ($1.2MM, UFA)
D Conor Timmins ($850K, RFA)
D Juuso Valimaki ($1.55MM, RFA)
Let's get Ladd out of the way first.  He's expected to miss all of the season and is LTIR-eligible although Arizona has no need to put him there since they have so much cap space.  Ritchie was productive after Toronto unloaded his contract, scoring 10 goals in 24 games.  That's a small sample size but if he produces at a similar level, he could actually get a raise next summer.  Halfway through last season, that would have sounded crazy.  Fischer is getting to the point where he's going to become a non-tender candidate unless he can start to produce more than a handful of goals per year.  He plays a physical game but players that are known mostly for hitting are strict fourth liners and it'd be difficult to see them wanting to pay much more for someone in that role.  Bjugstad has been on cheap deals the last couple of years and barring a big change, he'll stay around that price tag moving forward.
Gostisbehere struggled at the end of his time with Philadelphia to the point where they sent multiple draft picks to the Coyotes to take on his contract.  He responded with one of the best seasons of his career.  A similar performance will give him a chance to get more on his next deal which would be a striking turnaround for someone who cleared waivers not long ago.  Valimaki was a recent waiver claim from Calgary and will get a chance to turn things around in the desert.  If he doesn't, he's a strong non-tender candidate as he's owed a $1.86MM qualifying offer.  Stecher came over in free agency this summer as a third-pairing option and while he might have a bigger role than that at times in Arizona, his price tag next summer should check in close to this one.  Timmins, if healthy, has a chance to establish himself as a key part of their back end but he will probably land a one-year deal to give both sides more time to see what he can do.
Ingram recently joined the Coyotes after being claimed off waivers from Nashville.  He'll have a chance to be a full-time backup and a decent showing could give him a chance to double his qualifying offer which could push him into the $1.6MM range next season.  On the other hand, if he struggles, his next deal might be a two-way one.
Signed Through 2023-24
F Travis Boyd ($1.75MM, UFA)
D Josh Brown ($1.275MM, UFA)
F Barrett Hayton ($1.775MM, RFA)
F Zack Kassian ($3.2MM, UFA)
F Bryan Little ($5.292MM, UFA)
F Liam O'Brien ($775K, UFA)
D Patrik Nemeth ($2.5MM, UFA)
Once again, let's get the injured forward out of the way first.  Arizona absorbed Little's contract as part of the move to land McBain but he hasn't played since November 2019 and won't play again.  His deal is also LTIR-eligible but they won't need the extra cap space.
Kassian came over from Edmonton this summer in a draft-day move that allowed the Oilers to clear salary.  When he's on, he's a capable power forward but his consistency and discipline have been issues.  It's unlikely he'll come close to this on his next deal unless those elements improve over the next two years.  Hayton eventually settled for a bridge contract that ensures a higher qualifying offer ($2.13MM) while giving him time to show that he can be a top-six player.  If so, he could more than double that qualifier but if not, he'll settle in closer to the $2.5MM range.  Boyd was one of the feel-good stories last season.  After being more of a depth player for most of his career, he did well in a top-six role, earning him some stability and a nice raise.  If he stays around the 30-point mark for the next couple of years, there's some room for that price tag to go up a bit more.  Otherwise, he should settle in closer to the $1.25MM mark.
The Rangers compensated the Coyotes for taking on Nemeth's deal, one that looked puzzling when it was signed a year ago.  He's a serviceable player on the third pairing but is making roughly twice what someone should in that role.  At this point, he could be a PTO candidate in 2024 unless he establishes himself as a regular in their lineup.  Brown is a blueliner that's on the fringes of being a regular and unless he can become one, this is about as high of a contract as he can realistically expect to get.
Signed Through 2024-25
D Jakob Chychrun ($4.6MM, UFA)
D Dysin Mayo ($950K, UFA)
G Karel Vejmelka ($2.75MM, UFA)
Chychrun has only been featured in trade speculation for about a year and a half now.  Not because he's a bad player but because he's an impact defenseman whom the Coyotes can command a high asking price for.  If he can get to a contending team and play a big role there, he should easily pass the $6.5MM mark on his next deal.  If his production gets near his 2020-21 level, then the $8MM range is where his next contract should fall.  Mayo had a nice rookie season that saw him log more than 20 minutes a game but it came at the age of 25 which limited his leverage.  This deal gives him a bit of security but carries very little risk for the Coyotes as even if he slips to being a seventh defender, it's still not a bad contract for them.  And if he stays in that top-four role, it becomes an extremely team-friendly deal.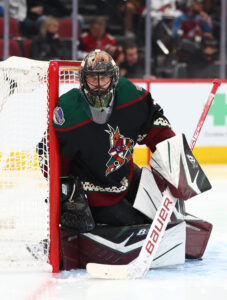 Vejmelka wasn't expected to be the starter for Arizona last season.  He was in his first season in North America after playing at home in the Czech Extraliga and expectations were low.  He quickly played well enough to earn a longer look and not long after that, the number one job was his.  This deal was signed just before the trade deadline and it's one that gives them at least one netminder that they're comfortable with in the remainder of their building years while he gets a lot more money than he could have expected when he signed with them.  However, he'll be hard-pressed to put up strong numbers during that time which won't help his marketability for potential suitors in 2025.