5:58 PM: The team has officially recalled Kochetkov from the Crunch while placing Andersen on the injured reserve.
1:08 PM: Carolina Hurricanes netminder Frederik Andersen will be sidelined indefinitely after recent medical testing discovered a blood clotting issue, per a statement from GM Don Waddell.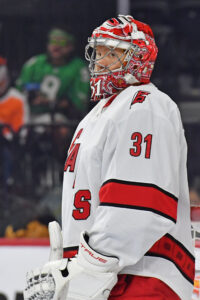 Andersen, 34, has made the most starts of any Hurricanes netminder this season with six. The NHL's first-ever Danish goalie has a 4-1-0 record, .894 SV% and 2.87 GAA this season, all leading the team.
Waddell said there is no timetable for Andersen to rejoin the team, but the team is "confident that Freddie will be able to make a full recovery." Andersen last played in the Hurricanes' 2-1 loss to the New York Rangers on Thursday, stopping 24 of 26 shots.
He was heating up after a slow start to the season, posting a .925 SV% in his last three games after recording a subpar .855 SV% through his first three. The veteran of nearly 500 NHL games is in his 11th season in the league and his third with Carolina.
With their starter sidelined, Carolina now turns to veteran Antti Raanta to handle the bulk of the starts for the foreseeable future. Like all the Hurricanes' goalies, Raanta's body of work in 2023-24 hasn't been impressive despite his 3-1-0 record. His current .870 SV% is his worst mark since his rookie campaign in 2013-14 with the Chicago Blackhawks. However, he has the team's only shutout of the season – a 20-save effort against the lowly San Jose Sharks late last month.
The 34-year-old Finn signed a one-year, $1.5MM deal widely viewed as a discount to remain in Carolina just minutes before free agency opened last July. Raanta has primarily been an above-average netminder over his 11 seasons in the league but struggles to avoid injuries. Despite mainly serving in a tandem capacity with Andersen since the pair signed in Raleigh in 2021, Raanta made more than 30 starts just once in the five preceding seasons.
To provide some extra depth behind Raanta, the Hurricanes signed veteran backup Jaroslav Halák to a professional tryout this morning, likely with the former's injury history in mind. Halák, 38, has over 500 games of NHL experience and posted a .903 SV% and 10-9-5 in 24 starts with the New York Rangers but cannot appear in a game for Carolina until he signs a contract.
For the time being, the team's top goalie prospect, Pyotr Kochetkov, will serve as Raanta's backup. While he's currently on loan to the AHL's Syracuse Crunch, Cory Lavalette of the North State Journal reported earlier Monday that the team is expected to recall him ahead of Tuesday's game against the Buffalo Sabres.
After putting up above-average numbers in 23 starts with the Hurricanes last season, Kochetkov has struggled early on in 2023-24, losing all three of his NHL appearances and posting a .836 SV% and 4.33 GAA. He's done well in a tough situation in the minors, however, backstopping the Tampa Bay Lightning's affiliate in Syracuse with a .932 SV% and one shutout through three appearances.
Unfortunately for the Crunch, it doesn't appear that Kochetkov will return to them anytime soon with Andersen sidelined. The 24-year-old Russian netminder was drafted 36th overall by the Hurricanes in 2019.
Surprisingly, the Hurricanes have struggled to keep the puck out of their net this season despite the highly-publicized addition of Dmitry Orlov to their backend with a two-year, $15.5MM deal in free agency. They've allowed 42 goals through 12 games, the most of any team in the Eastern Conference.
Despite that, they still have a 7-5-0 record and sit third in the Metro with 14 points. It'll be up to Raanta and Kochetkov to improve their play in short order to keep them in playoff position.
PHR extends its best wishes to Andersen and shares in the Hurricanes' hopes for a full recovery.
Photo courtesy of USA Today Sports.