The Anaheim Ducks announced that they have agreed to a new three-year contract with restricted free-agent forward Trevor Zegras that will allow him to join the team prior to the beginning of the regular season. Elliotte Friedman tweeted that the new deal comes with an average annual value of $5.75MM and will carry him through the 2025-26 season. Friedman had said on his 32 Thoughts podcast that he felt the two sides were moving towards a resolution to the contract dispute, and it appears that he was indeed correct.
Zegras is already a star in the NHL and, at 22 years of age, may only be scratching the surface of his potential. In 180 NHL games, the center has 49 goals and 90 assists while producing countless highlight-reel moments. While there is little doubt that he displays elite offensive abilities, the Ducks were hesitant to commit to the young forward long-term. A three-year contract could ultimately come back to bite the Ducks if Zegras is able to develop into a superstar.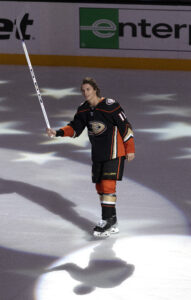 With a new deal in hand, Zegras can now focus on the remainder of training camp and getting himself prepared for what could be a very difficult season in Anaheim. The Ducks are expected to go through serious growing pains this year as they wait for many of their elite prospects to develop into NHL players. Zegras will be counted on to provide much of the scoring for the Ducks as they traverse some rocky waters in what could be one of the final seasons of their rebuild.
Locking up Zegras finally resolves what had been a rocky negotiation process by all accounts between the Ducks and Zegras. Few expected talks to drag out this late into the summer, let alone training camp, given the Ducks had the most salary cap space in the league after the dust settled on free agency. Reports from TVA's Renaud Lavoie last month even suggested the Ducks were only offering Zegras between $3MM and $4MM per season on a bridge deal, but they've obviously significantly upped their offer here to get their star forward back around the team.
While the Ducks aren't expected to contend for a playoff spot this season, they do need to improve on last year's poor all-around showing under new head coach Greg Cronin. With news that marquee free-agent acquisition Alex Killorn is expected to miss the first month of the season with a broken finger, the team was down two forwards with shutdown center Isac Lundeström already sidelined due to an offseason Achilles tendon injury. Simply put, Zegras' absence stretching into the season would have put them at even more of a disadvantage than normal.
Getting Zegras locked into a three-year term gives the Ducks a little more flexibility when his contract expires in 2026. A four-year or five-year deal would've been much riskier, walking him either directly to unrestricted free agency or just one year away, which could have forced a move if Zegras wasn't willing to re-sign. Instead, Zegras will see his contract expire with two years remaining until he hits UFA eligibility, giving Anaheim a little more team control. That, combined with the bargain cap hit compared to other players in his age group with similar production, clearly marks this as a short-term win for Ducks general manager Pat Verbeek. Whether that plays out into long-term dividends is a different question, however.
Zegras projects to resume his role as the Ducks' first-line center to begin the season, likely on a line with Adam Henrique to his left and Troy Terry to his right. After signing Zegras, the Ducks have roughly $10MM in cap space per CapFriendly's projections, which are going off a 24-man roster – one player over the maximum size of 23. They still have young defenseman Jamie Drysdale to sign to a new deal before all their dominoes are in place, however.
PHR's Josh Erickson contributed significantly to this report.
Photo courtesy of USA Today Sports.