The San Jose Sharks limped into the offseason of what was sure to be a franchise altering offseason. There was some excitement that the club was finally going to be able to get out from under Erik Karlsson's gigantic cap hit and begin a full on rebuild that was a few years in the making. Ultimately the rebuild did start, but the return for their franchise defenseman was extremely underwhelming. Although people in some circles see the move as purely a cap dump, it was unlikely that the team was going to be a cap team in the next few seasons anyway which puts a damper on some of that talk.
San Jose is going to be bad this upcoming season, but based on the moves of General Manager Mike Grier, that is the plan as they embark on the first rebuild in San Jose since the mid-1990s.
Draft
1-4: C Will Smith, USA U-18 (USNDP)
1-26: F Quentin Musty, Sudbury Wolves (OHL)
2-36: F Kasper Halttunen, HIFK (Liiga)
3-71: C Brandon Svoboda, Youngstown Phantoms (USHL)
4-123: D Luca Cagnoni, Portland Winterhawks (WHL)
5-130: D Axel Landen, HV 71 Jr. (J20 Nationell)
5-132:D Eric Pohlkamp, Cedar Rapids RoughRiders (USHL)
7-196: C David Klee, Waterloo Black Hawks (USHL)
7-203: F Yegor Rimashevsky, Dynamo Moscow Jr. (MHL)
Smith has a strong hockey sense and a terrific skill set that should help him have an excellent NHL career. This past season he dressed in 60 games for the United States National Team Development Program's Under-18 team and finished second on the NTDP's all-time single-season points list potting 51 goals to go along with 76 assists. He helped lead the group to a Gold Medal at the Under-18 Men's World Championship while leading the tournament in scoring with nine goals and 11 assists. It might be a few seasons before Smith dons a Sharks jersey as he is currently committed to play at Boston College next season close to his hometown of Lexington, Massachusetts.
With the Sharks second first-round pick they drafted Musty out of the OHL. The former first overall pick in the 2021 OHL draft had a strong second half of last year and a good season overall posting 26 goals and 52 assists in 53 games. The Hamburg, New York native has good size at 6'2" and 200 pounds and should be able to use it along with his reach and skillset to score goals in the NHL. He hasn't quite dominated the OHL yet, but given where he is at, he could be poised for a big year in Sudbury this upcoming season.
Trade Acquisitions
G – Mackenzie Blackwood (from New Jersey)
F – Anthony Duclair (from Florida)
D – Leon Gawanke (from Winnipeg)
F – Mikael Granlund (from Pittsburgh)
F – Mike Hoffman (from Montreal via Pittsburgh)
D – Jan Rutta (from Pittsburgh)
The Sharks made some interesting trades this offseason that if viewed in a vacuum seem to show a lack of direction. But if you look at the body of work over the course of the entire summer it becomes a little bit clearer that Mike Grier has a plan. Whether or not it will work remains to be seen, but the rebuild is in full force and Grier has taken to many different avenues to try and extract future value from players.
Duclair is the type of player that can provide efficient depth scoring at a very affordable price point. He is making just $3MM this season and is only a year removed from scoring over 30 goals for the Florida Panthers. While his acquisition doesn't make sense for a team that is building for the future, the cost to acquire him was so low. If Duclair can bounce back and have a good season, San Jose should be able to move him at the trade deadline and acquire much better pieces than the ones they gave up getting him, which was a fifth-round pick and Steven Lorentz.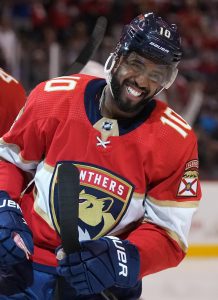 The story is the same for Blackwood, San Jose signed him to a two-year $4.7MM extension after acquiring him and are hoping he can provide league-average goaltending for the time being. Should he bounce back he could be another piece that San Jose flips out to grab some future draft picks or prospects.
The likes of Granlund, Hoffman and Rutta are all still NHL players, however, they each had become expendable with their former clubs. Granlund and Rutta were ill-advised moves that Ron Hextall had made in Pittsburgh that backfired almost immediately after they were made. Both players could find bounce-back seasons in San Jose which would make it possible to move them in the future for other assets. Rutta might be in tough though as he is slated to play in the Sharks top 4, a role he struggled in badly last season with the Penguins.
UFA Signings
D Kyle Burroughs (three years, $3.3MM)
C Ryan Carpenter (one year, $775K)*
F Scott Sabourin (two years, $1.55MM)*
RW Givani Smith (two years, $1.6MM)
C Nathan Todd (two years, $1.55MM)*
RW Filip Zadina (one year, $1.1MM)
The Sharks went into the offseason knowing that they were not going to be players for any of the bigger-name free agents as they were already trying to shed cap space and get younger. They weren't completely inactive though as they made a few moves to add depth and toughness while bringing in a couple of projects who could be bounce-back candidates.
Mike Grier continued his trend of buying low on players as he opted to sign former Detroit Red Wings forward Zadina to a one-year deal. The 23-year-old hasn't shown much in his short NHL career, but with more minutes and a bigger role, he could start to find the scoresheet with more frequency. The downside to the deal was almost non-existent for San Jose since they can just cut ties after the season if Zadina doesn't work out. He will surely be motivated to prove the doubters wrong as every team in the league passed on picking him up under his previous contract leading to a mutual termination with Detroit.
RFA Re-Signings
G Eetu Makiniemi (one year, $775K)*
F Jacob Peterson (one year, $775K)
F Fabian Zetterlund (two years, $2.9MM)
*-denotes two-way contract
The Sharks didn't have much in-house business to take care of this summer when it came to the restricted free-agent front. Zetterlund was the biggest piece of business to lock up as he and San Jose opted to sign a two-year bridge contract. Zetterlund was having a decent season with the New Jersey Devils posting six goals and 14 assists in 45 games before he was dealt mid-season in the Timo Meier swap. In 22 games with the Sharks, the 24-year-old failed to gain much traction as he posted just three assists and struggled to drive play in any meaningful way. His advanced analytics also took a sizable drop, which isn't surprising given his move from a contending team to a rebuilding one. Zetterlund should be given a big role this upcoming season as the Sharks have fully entered a rebuild and will be looking to see whether he is part of the future or a piece they can move on from for future assets.
Departures
C Kyle Criscuolo (New Jersey, one year, $775K)*
G Aaron Dell (Columbus – PTO)
F Jonah Gadjovich (Charlotte Checkers – AHL)
C Noah Gregor (Toronto – PTO)
C Luke Johnson (Metallurg Magnitogorsk-KHL)
LW Andreas Johnsson (Pittsburgh, one year, $800K)
D Erik Karlsson (traded to Pittsburgh)
RW Martin Kaut (signed with HC Dynamo Pardubice-Czechia)
F Steven Lorentz (traded to Florida)
D Markus Nutivaara (retired)
D Derrick Pouliot (Dallas, one year, $775K)*
G James Reimer (Detroit, one year, $1.5MM)
F C.J. Suess (Manitoba – AHL)
D Andrej Sustr (signed Kölner Haie of the Deutsche Eishockey Liga (DEL)
LW Yevgeni Svechnikov (signed Ak Bars Kazan-KHL)
RW Max Veronneau (signed with Leksands IF-SHL)
The biggest and probably the only notable loss for the Sharks was reigning Norris Trophy winner Karlsson. The now Pittsburgh Penguins defenseman had a season for the ages and became the first defenseman to top 100 points in a season in three decades. Karlsson's run in San Jose was mired with injuries and inconsistent play, despite his historical season last year. He could never push the Sharks over the hump and eventually, the team fell out of their window of contention leading to the trade with the Penguins.
Karlsson didn't fit with the Sharks' future and a move was the best thing for both sides long term. San Jose did get some pieces for Karlsson, just likely not what they would have hoped to get for an elite asset.
Outside of Karlsson, most of the departing Sharks players were replacement-level players at best and leave San Jose in a spot where they should have a ton of flexibility going forward, particularly if the salary cap does increase as it is expected to over the next few seasons.
Salary Cap Outlook
San Jose has cap space heading into this season and could have a ton of it next summer. With $4MM this year, and possibly around $40MM next summer, the options are almost endless. Now, barring a lot of major growth in their prospects it seems unlikely that Grier will be a major player for free agents next summer. But perhaps he could make moves to use some of his draft capital to acquire restricted free agents that better fit the Sharks' timeline to being a contender. Grier has wiped out a lot of the team's long-term financial commitments and could make some serious moves at a time when the cap will start to grow.
Key Questions
How Bad Will They Be? A lot of pundits have predicted that the Sharks will have the best odds to win the draft lottery at the end of the 2023-24 season, and while that would certainly jumpstart their rebuild, they must play the season first. The Sharks have some players who can put the puck in the net and even if management has their sights set on a future lottery pick, the players want to win hockey games and will do everything in their power to do so. But no matter how hard those players try, they will still likely be a bad team. How bad? Well, that remains to be seen. 30 wins seems steep for this group, but maybe they'll surprise some people in a weak Western Conference.
Who Else Will Be Dealt? The Sharks still have several veterans under big contracts, and while Mike Grier has obviously made flexibility a priority, he still must reach the salary cap floor which means he can't trade all of them. Marc-Édouard Vlasic is a player who has fallen off a cliff in recent years and owns perhaps the worst contract in the NHL, but he still provides a veteran presence and is almost untradeable. But could the Sharks look to take back other bad contracts to give the veteran defenseman a change of scenery? We'll see.
Will Grier Weaponize His Cap Space? Mike Grier has almost $4MM in cap space for this season and could have close to $40MM next summer. Will he use his space to take on bad contracts while acquiring more picks and prospects for the future? It's a tactic that many rebuilding teams have used to essentially purchase draft picks using short-term cap space, and it is something that Grier could utilize to add a lot of depth to the organization.
Photos courtesy of USA Today Sports Images.