Navigating the salary cap is one of the more important tasks for any GM.  Teams that can avoid total cap chaos by walking the tightrope of inking players to deals that match their value (or compensate for future value without breaking the bank) remain successful.  Those that don't see struggles and front office changes.
PHR will look at every NHL team and give a thorough look at their cap situation heading into the 2023-24 season.  This will focus more on players who are regulars on the roster versus those who may find themselves shuttling between the AHL and NHL.  All cap figures are courtesy of CapFriendly.
Boston Bruins
Current Cap Hit: $83,070,834 (under the $83.5MM Upper Limit)
Entry-Level Contracts
None that are likely to be full-timers on the roster.
Signed Through 2023-24, Non-Entry-Level
F Jesper Boqvist ($775K, RFA)
F Jake DeBrusk ($4MM, UFA)
D Derek Forbort ($3MM, UFA)
F A.J. Greer ($762.5K, UFA)
D Matt Grzelcyk ($3.688MM, UFA)
F Milan Lucic ($1MM, UFA)
D Ian Mitchell ($775K, RFA)
D Kevin Shattenkirk ($1.05MM, UFA)
G Jeremy Swayman ($3.475MM, RFA)
F James van Riemsdyk ($1MM, UFA)
D Jakub Zboril ($1.138MM, UFA)
Potential Bonuses
Lucic: $500K
DeBrusk's future with Boston has been murky for a few years now.  First, it was a trade request that wasn't granted and was later rescinded.  Since then, he has become an important part of their attack, notching at least 25 goals in each of the last two seasons.  Now, they need to decide if he's part of their future plans on a contract that's likely to cost closer to $6MM or if he could be a possible part of an offer to try to get some center help.  Lucic returns after a long stretch out West and is no longer the top-six forward he once was.  However, he has been a serviceable bottom-six piece in a limited role and this contract fits in with the role he's likely to provide.
Not many players saw their stock fall last season as much as van Riemsdyk.  After being a top power play threat in previous years, he struggled with the man advantage last year which resulted in his lowest goal total since 2011-12.  In doing so, the Flyers weren't able to find a taker for him at the trade deadline.  He'll look to rebuild his stock in Boston and if he can have success in a top-six role, his market should be considerably stronger next summer.  Boqvist was non-tendered by New Jersey this summer to avoid arbitration.  He's a capable fourth-line checker and this should prove to be a team-friendly deal before too long.  Arbitration rights will be in play next summer as well.  Greer held down a regular spot on the roster last season, getting into a career-best 61 games.  Another year like that should increase his chances of another one-way pact but he's the type of player that teams will be looking to sign for the minimum.
With Boston's cap situation, Grzelcyk's future has come into some question as well.  He was basically relegated to an even strength-only player last season and while that type of player still has some value – he's still a capable offensive player – it's one that's hard to afford given their current roster structure.  Next summer, if he has another season like this one, he might be looking at a small dip in pay but should still land a multi-year deal.  Forbort is another speculative cap casualty if GM Don Sweeney makes a move to create some flexibility or needs to match money in a trade.  More of a prototypical third-pairing/penalty killing piece at this point of his career, his market value is probably closer to $2MM unless he can stake a regular claim to a top-four spot this season.
Shattenkirk was one of many bargain signings by Boston this summer, coming over after three years in Anaheim.  He's starting to slow down but is still capable of logging upwards of 20 minutes per game and certainly left money on the table to join the Bruins.  A good season with them could push him back over the $3MM mark next summer if he wants to maximize his next contract.  Zboril has seen very little NHL action over four years due to injuries, demotions, and being scratched at times; his career GP total is less than a full year.  When he played last season, he was sparingly used.  If that's the role he has again, his next offers are going to be closer to the minimum salary.  That's where Mitchell finds himself after taking less than his qualifying offer, presumably in the hopes of trying to secure a spot on Boston's roster.  Once viewed as a key prospect in Chicago, his stock has dipped but he has had enough success in the minors to warrant another look.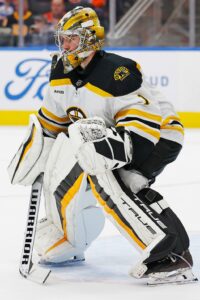 Swayman's contract was one of the more interesting ones signed this summer.  He had a very strong year, posting a 2.27 GAA along with a .920 SV% but in just 37 games.  For his career, he has just 87 career appearances which isn't a large sample size to work off of.  A multi-year deal would likely have cost upwards of $4.5MM per year, a sum they simply couldn't have afforded with their current roster.  Instead, the sides went to arbitration to get this deal.  Another year somewhat similar to this one could push his single-year value into the $4.5MM range – even as a platoon goalie – while a longer-term agreement could push closer to the $6MM mark.
Signed Through 2024-25
F Patrick Brown ($800K, UFA)
F Trent Frederic ($2.3MM, UFA)
F Morgan Geekie ($2MM, RFA)
F Brad Marchand ($6.125MM, UFA)
G Linus Ullmark ($5MM, UFA)
Marchand's production isn't where it was at his peak anymore but he was still close to a point per game last season.  Without his long-time linemate Patrice Bergeron, it will be interesting to see how that affects his output but Marchand should still provide positive value on the final two years of his deal.  He'll be 37 when his next contract begins and it wouldn't be surprising if he takes another team-friendly pact again.  Frederic took a step forward last season, providing Boston with some good secondary production despite having a limited role, allowing him to more than double the AAV of his previous contract.  He'll need to maintain that at a minimum while moving up the lineup to push up his price tag again in two years.
Geekie came over after being somewhat surprisingly non-tendered by Seattle.  He'll have a chance to play a bit higher in the lineup with Boston's turnover down the middle and if he can hold down the third-line center role, this should be a good pickup for them.  Notably, he'll still have another year of control through arbitration if things go well.  Brown came over in free agency after splitting last season between Philadelphia and Ottawa.  He's a serviceable checker on the fourth line without providing much offense so future deals for him should come in close to the minimum as well.
Ullmark had an incredible season last year.  He blew past his full-season career bests in GAA (2.45) and SV% (.917) by putting up 1.89 and .938 respectively in those categories.  Wins and losses certainly aren't everything for a goalie but he had 40 victories in 48 starts, a win rate that is quite difficult to come by.  That made him a well-deserving recipient of the Vezina Trophy while making mid-tier starter money.  Few are expecting a performance like this in 2023-24 but even if he goes back to his career averages, they'll get good value here.
Signed Through 2025-26
F Charlie Coyle ($5.25MM, UFA)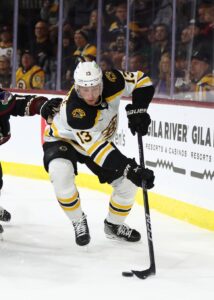 Coyle has been a secondary producer for the majority of his career, even coming back to his time with Minnesota.  That made this contract a bit on the high side when it was signed back in 2019.  However, he's coming off back-to-back years with more than 40 points and has moved back to primarily playing at center after splitting the previous few seasons between center and the wing.  The full-time position switch helps the value.  So do the departures of Bergeron and David Krejci as it will push Coyle into a more prominent role offensively.  As long as that results in an uptick in production – a reasonable expectation – the return on the second half of this contract should be a bit better than the first half.
Signed Through 2026-27 Or Longer
D Brandon Carlo ($4.1MM through 2026-27)
D Hampus Lindholm ($6.5MM through 2029-30)
D Charlie McAvoy ($9.5MM through 2029-30)
F David Pastrnak ($11.25MM through 2030-31)
F Pavel Zacha ($4.75MM through 2026-27)
Pastrnak had a dominant performance last season, scoring 61 goals while averaging at least a point per game for the fifth straight season.  That put him in the driver's seat when it came to negotiating an early extension in-season, one that immediately became the richest deal in franchise history.  It's hard for a player making that much to live up to the contract but he'll be the go-to player in Boston for a long time.  Zacha's contract is on the pricey side based on his career numbers but he had a breakout performance in 2022-23, notching 57 points.  Like Coyle, he'll be asked to play a bigger role this year and if there's an uptick offensively as a result, this will become a team-friendly deal.
McAvoy has emerged as a legitimate top-pairing defenseman who is above-average at the offensive end.  Those players get paid quickly and he was no exception as he now sits tied for fourth in the NHL in AAV among blueliners.  That's a hard contract to live up to but the Bruins are banking that he has another gear to get to yet.  Lindholm found a gear offensively that he never could reach with Anaheim, becoming an ideal top-pairing fit in the process.  There's some concern about how the deal might age as he'll be out of his prime by then but that's a problem for down the road, not now.  Carlo is a capable defensive defenseman but his ideal role is a fourth or fifth defender who can kill penalties.  With minimal offensive contributions, it's a deal that's above market value at this point.
Buyouts
D Mike Reilly ($333K in 2023-24, $1.33MM in 2024-25)
Retained Salary Transactions
None
Still To Sign
None
Best Value: Shattenkirk
Worst Value: Carlo
Looking Ahead
The bonus carryover penalties from Bergeron and Krejci's deals cut into Boston's cap space by $4.5MM.  They're unlikely to afford a full-sized roster to start the season but if they want to get creative, they might be able to waive someone like Forbort and shuffle him back and forth, freeing up a pro-rated $1.15MM for each day he's off the roster.  That could give them some extra space to hedge against injuries but if they want to add to their group this season, it's going to be a money-in, money-out situation barring LTIR for someone coming into play.
Fortunately for the Bruins, the cap challenges could be short-lived.  With over $20MM coming off the books next summer plus the carryover charge being cleared (aside from potentially Lucic's half-million), Sweeney should have ample flexibility to re-sign his core pieces and then try to add one either via trade or in free agency.  Meanwhile, at the moment, there are just six players signed for the 2025-26 campaign, giving Boston a relatively clean canvas to work with for the future.
Photos courtesy of USA Today Sports Images.