The Minnesota Wild have re-signed forward Mats Zuccarello to a two-year, $4.125MM AAV contract extension, set to begin in 2024-25. The deal carries a no-move clause for its entire duration, according to The Athletic's Michael Russo.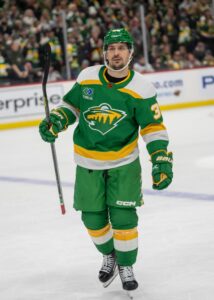 Zuccarello, who turned 36 on the first day of the month, commits the next two years of his playing career to the Wild, the place where he's enjoyed the most productive seasons of his career.
Zuccarello has had quite a bit of chemistry with Wild franchise superstar Kirill Kaprizov, and as a result Zuccarello has flown past his previous career highs in Minnesota.
Zuccarello scored 79 points in just 70 games in 2021-22, his first season above the point-per-game mark in his career. Last season, Zuccarello scored 22 goals and 67 points in 78 games.
Even though Zuccarello has been exceptional in Minnesota since the arrival of Kaprizov, this contract does carry some risk. The Wild are in a brutal cap situation thanks to the buyouts of Zach Parise and Ryan Suter, and those buyouts will remain on their books to a degree of over $14MM combined in the first year of Zuccarello's extension.
While Zuccarello could provide an immense amount of surplus value on a $4.125MM cap hit (a pay cut from his current $6MM cap figure) that only happens if he can maintain his current level of play or decline only slightly. If age starts to really catch up with Zuccarello and he has a poor 2023-24, Zuccarello's $4.125MM cap number could quickly become a burden.
But from the Wild's perspective, it's understandable that they'd avoid taking the pessimistic view of Zuccarello's next two seasons and instead reward a valued veteran who has more than repaid former GM Paul Fenton's original investment from the summer of 2019.
There's risk involved to this deal, but there's also major upside if Zuccarello can remain a valuable top-six scorer.
Photos courtesy of USA Today Sports Images