The Ottawa Senators began their preseason on a high note, but still have one major issue remaining. One of the team's key young players, center Shane Pinto, still does not have a contract for next season and the Senators simply do not have the cap space at the current moment to pay for Pinto's next deal.
Pinto, 22, is coming off of a strong rookie season where he displayed impressive two-way abilities and potted 20 goals and 35 points.
In order to clear enough cap space to retain someone who profiles as a long-term middle-six center in Ottawa, the Senators have reportedly looked at moving Mathieu Joseph, who is under contract through 2025-26 at a $2.95MM cap hit.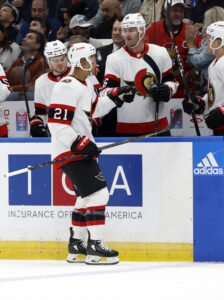 Joseph struggled in his first full season in Ottawa, posting just three goals and 18 points in 56 games. He drew praise for his work on the Senators' penalty kill, but otherwise was viewed as a disappointment.
Joseph's relatively high cap hit came from last summer, when he was coming off of a blisteringly hot first 11 games as a Senator. He connected with two of the team's stars, Brady Tkachuk and Tim Stützle to score 12 points in that span.
The Senators were likely optimistic that Joseph, a former QMJHL star, could build on that chemistry and potentially find a long-term home in the team's top-six.
While Joseph proved himself to be a useful player in Ottawa, it seems unlikely at this point that he'll become quite as good as the Senators were betting on. That leaves the team in a position where dumping his $2.95MM cap hit might be the best course of action to take in order to clear the room to sign Pinto.
That's where the Philadelphia Flyers enter the picture. The Fourth Period's Anthony Di Marco reports that the cost the Senators will have to pay in order to entice another team to take on Joseph's deal is "a first-round pick or a prospect equivalent."
The Flyers are undergoing a full-scale rebuild under new GM Daniel Brière, so it's understandable that they would be interested in leveraging some of their available cap space to add a high-end future asset.
Di Marco specifically mentioned the name of 2021 tenth-overall pick Tyler Boucher as a possible player of interest for the Flyers in any Joseph trade. Boucher already has some ties to the Flyers, as his father is a former Flyers netminder who is now serving as an analyst on the team's local broadcasts on NBC Sports Philadelphia.
Although Boucher was widely considered a "reach" pick at the number-ten slot and has struggled mightily with injuries and underperformance since he was drafted, his prototypical power-forward game and impressive physical tools keep him a prospect with an intriguing amount of upside.
Boucher was ranked the number-four prospect in the Senators' system by EP Rinkside, (paywall link) and would represent a major price to pay for Dorion. But if paying Boucher or another top-end future asset is what allows Dorion to carve out the cap space to afford an extension for Pinto, he just might have to consider it.
Photos courtesy of USA Today Sports Images