The preseason is underway so activity across the NHL should start to pick up in the near future.  There was some news of note before the puck dropped which is recapped in our key stories.
New Captains: Two of the eight teams that had been without a captain filled that vacancy over the past few days.  The Bruins promoted Brad Marchand to the role as expected, becoming the 27th captain in team history.  He's set to enter his 15th season with the team and is the longest-tenured player in the organization following the retirement of Patrice Bergeron.  Meanwhile, Brayden Schenn was named the new captain in St. Louis, taking the place of Ryan O'Reilly who was traded before the deadline last season.  Schenn is heading into his seventh season with the Blues and is the 24th captain in club history.
Stamkos Not Happy: Speaking of captains, Lightning captain Steven Stamkos is entering the final year of his contract and is eligible for an extension.  However, he noted that there have yet to be discussions on that front and that he's not particularly happy about being in this situation knowing how often Tampa Bay has extended its players early.  GM Julien BriseBois indicated he wants to see how this season plays out before deciding on Stamkos' future with the club.  The 33-year-old has spent his entire 15-year career with the Lightning after being the first-overall pick in 2008 and he has fared quite well, notching over 500 goals in 1,003 games and has surpassed the point-per-game mark in six of the last seven seasons.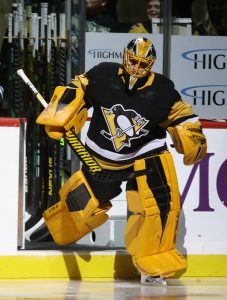 Canucks/Canadiens Swap: With Tanner Pearson being cleared to come off LTIR, Vancouver needed to trim some payroll.  They did just that, sending Pearson and a 2025 third-round pick to Montreal in exchange for goaltender Casey DeSmith.  The deal saves Vancouver $1.45MM in cap space for the upcoming season (more if you factor in the savings from their original projected backup going to the minors) while upgrading Thatcher Demko's backup option.  Meanwhile, Montreal continues to stockpile draft picks and now has an extra selection in each of the first four rounds in 2025.  They will likely look to try to build up Pearson's value during the season if he can stay healthy in the hope of flipping him closer to the trade deadline.
Fleury Undecided About Playing Future: Wild goaltender Marc-Andre Fleury is set to play his 20th NHL season in 2023-24.  Will it be his last year?  He hasn't decided just yet, stating that he will play out the year and then assess his future.  The 38-year-old made 45 starts last season but is likely heading for a lighter workload with Filip Gustavsson emerging as a strong performer last year.  Fleury enters this season just 15 games shy of 1,000 for his career, a mark that only three other netminders have hit.  He's also seven wins shy of passing Patrick Roy for second all-time in victories.  Both of those marks are definitely achievable this season and if it winds up being his final campaign, it'd be a nice way to cap his career.
Talks Not Going Well: This is the time when unsigned restricted free agents start to become more notable as most have signed by training camps.  There are four remaining league-wide, two of them in Anaheim – center Trevor Zegras and defenseman Jamie Drysdale.  It appears as if the sides are not close on new deals although it's believed Zegras and Anaheim have settled on a three-year term, leaving just the money to haggle over.  Considering that Drysdale missed most of last season due to injury, he's almost certainly heading for a bridge deal as well.  Cap space isn't an issue for the Ducks as no team has more of it at the moment so that certainly isn't a factor in talks.  There's still time for both players to sign and be ready for the regular season which will be the next pressure point of discussions.
Photo courtesy of USA Today Sports Images.