The hopes of eleventh-hour deals to get a couple of Anaheim Ducks' future mainstays on the ice for training camp Thursday are quickly dwindling. They are not close to new deals for either franchise center Trevor Zegras or young defender Jamie Drysdale, despite camp opening in less than 48 hours, TSN's Pierre LeBrun said Tuesday night on Insider Trading.
As echoed by Sportsnet's Elliotte Friedman tonight, this is quite a puzzling saga that few expected when the summer began. The Ducks have the most projected cap space of anyone in the league by a significant margin, per CapFriendly. Their $16.64MM in flexibility is nearly $4MM more than the Chicago Blackhawks, who have the second-most with $12.86MM. To put that into context – 24 of the NHL's 32 teams have less cap space than the gap between Anaheim and Chicago.
Ducks assistant general manager Jeff Solomon is known in NHL circles as one of the tougher negotiators in the league, and it could be that Drysdale and Zegras's camps are truly asking for more than the Ducks feel they're worth. With short-term deals likely for both in a window where the team won't be fully exiting their rebuild, however, the team arguably has more to lose by creating off-ice animosity than opting for a perceived overpay on the two contracts.
LeBrun adds that, in a small glimmer of hope, the Ducks and Zegras have both settled on a three-year term. He did say, however, that a "tangible gap" remains between the two sides' wants on an average annual value. No such specifics were given for Drysdale's negotiations aside from a deal not being close to fruition, although his agent, David Gagner, is in Anaheim for talks, reports The Sporting Tribune's Derek Lee.
Neither Drysdale nor Zegras were eligible for arbitration, giving the Ducks most of the leverage in negotiations. That's especially the case with Drysdale, who was additionally ineligible to sign an offer sheet. It's fair to wonder if Anaheim is overplaying their hand by letting things drag out this long, though.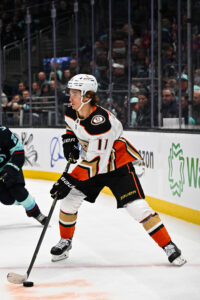 While Zegras is already a household name across the league thanks to his incredible puck skills and flashy dekes, the Ducks need him to take a step forward defensively in order to maintain his status as a true number-one center on a championship-caliber team. That's something they're hoping to achieve by bringing in first-year NHL head coach Greg Cronin, who Zegras said he had a positive meeting with earlier this summer and shares in Cronin's philosophy of improving his all-around game. They're now extremely close to losing valuable time together during camp and getting a pivotal development season for Zegras off to a rocky start. The 22-year-old center has rattled off at least 20 goals and 60 points in his first two full NHL seasons.
Drysdale's negotiations were always going to be a complex prediction. While an incredibly high-ceiling defender, he registered no points in the first eight games of last season before a torn labrum sidelined him for the remainder of the campaign. The sixth overall pick in the 2020 NHL Draft, Drysdale notched 32 points in 81 games in his only full NHL season to date in 2021-22 while averaging nearly 20 minutes per game. When he does get a deal done, he's projected to assume a top-pairing role to the right of Cam Fowler.
It's worth noting that if Zegras' absence stretches into the regular season, Anaheim will be down two of its usual four centers. Developing shutdown man Isac Lundeström is sidelined through January after injuring his Achilles tendon during offseason training.
Photo courtesy of USA Today Sports Images