Since it became apparent Patrick Kane would hit the free agent market this summer, speculation immediately turned toward him joining the up-and-coming Buffalo Sabres. After all, they are his hometown team, and without a return to either the Chicago Blackhawks or the New York Rangers due to cap constraints in the cards, it seemed like a logical option.
However, throughout the summer, multiple teams were mentioned as having shown interest in one of the greatest American wingers of all time, including teams such as the Colorado Avalanche, Dallas Stars and New York Islanders. Buffalo's name never truly came up outside of pure speculation – until today. TSN's Darren Dreger reports that as Kane nears recovery from offseason hip surgery, the Sabres do indeed have interest in adding him to their roster.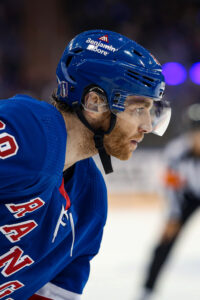 Dreger added that Kane's rehab is going well and that he continues to train in Toronto, as he's been doing for the past two months. He's not expected to be ready for opening night should a team sign him before then, however, and requires at least another month before he's ready to play. That's still just a four-month recovery window from when he had the surgery in June, certainly on the short end of his timeline.
While Colorado always seemed like a natural fit given their vacancy in the top six left by captain Gabriel Landeskog's injury, they decided earlier this month they weren't willing to wait around for Kane to get healthy. They used most of their remaining LTIR relief from Landeskog to sign Slovak winger Tomas Tatar to a one-year deal, all but eliminating them from the running for Kane. Detroit had also been mentioned as a possible destination in some circles, but that had to do with Kane's interest in playing there – not the other way around.
It leaves Buffalo as the only apparent option with a demonstrated interest in Kane that makes much sense. While the team is certainly of the mind to prioritize ice time for their young talent, the early-season absence of Jack Quinn will leave a noticeable void in the team's top nine that could very well hamstring them out of the gate in a tough Atlantic Division. Banking on March trade acquisition Jordan Greenway to recoup much of Quinn's lost value would be an unwise move given his own recent injury history and poor possession metrics.
Buffalo certainly has the cap space to make a deal work with $8.78MM in projected space remaining, per CapFriendly. It's unlikely a short-term deal for Kane would cost anywhere close to that amount.
It's also unlikely head coach Don Granato would consider breaking up the team's top line of Jeff Skinner, Tage Thompson and Alex Tuch, which appears well on its way to being one of the best three-man units in the sport. He could, however, slide into a second-line role alongside Dylan Cozens and Casey Mittelstadt, which would allow Buffalo to drop Victor Olofsson down to a third-line spot – his ideal role at even strength. While skilled, he's widely viewed as too much of a defensive liability to serve in a contending team's top six.
The same could easily be said for Kane, although it remains to be seen how his hip procedure could impact his play for better or for worse. Kane has never been a dominant possession force, but his play-driving at both ends of the rink at even strength has ranked near the very bottom of the league for the last three seasons. That's not to discount his skill fundamentals and power-play ability, which both remain well above average even as he enters his mid-30s.
Photo courtesy of USA Today Sports Images