Nate Thompson, a longtime bottom-six forward who played 844 games in the NHL, announced his retirement from the game on social media yesterday. Thompson, set to turn 39 in October, last played in the NHL in 2021-22, scoring three points in 33 games for the Philadelphia Flyers.
For much of his career, Thompson gave NHL clubs exactly what they would hope to receive out of a player occupying their fourth-line center role.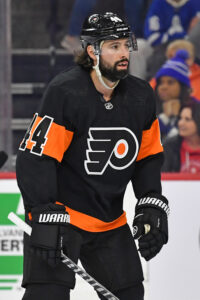 He brought leadership: Thompson wore a letter on his jersey with three different teams across his pro career, as early as 2006-07 with the Providence Bruins in the AHL and as late as 2019-20 with the Montreal Canadiens.
He brought defensive ability: Thompson often put his body on the line on the penalty kill and even landed on the Selke Trophy ballot in 2013. And he brought prowess at the faceoff dot, winning nearly 53% of his draws across his career.
Although Thompson's career-high in points production was just 25, set all the way back in 2010-11, Thompson remained an NHL regular throughout his career. As Sportsnet's Eric Engels noted, after breaking into the NHL Thompson only played five more games in the AHL before his final professional season, and all of those games were on conditioning stints. Engels wrote: "We're talking about a guy who never came to training camp with a secure job, a career grinder who always managed to earn his spot for 17 straight seasons!"
That's an extremely impressive feat, and underscores for just how long Thompson was considered an indispensable fourth-line forward. Thompson's career highlights also include representing the United States at two IIHF Men's World Championships, the 2012 and 2013 games played in Finland and Stockholm. Thompson wore a letter both years and led the Americans to a bronze medal in 2013.
All things considered, the Anchorage, Alaska native leaves behind a highly successful playing career and will now transition to the off-ice phase of his life and work.
Photos courtesy of USA Today Sports Images.