Just a year after signing Andrew Copp to a significant free agent deal, the Detroit Red Wings have added another center: J.T. Compher. Per a team announcement, he's signed a five-year, $5.1MM AAV deal to play in Hockeytown.
At first glance, this is a somewhat curious signing since the Red Wings have already committed $5.625MM per year to Copp, $8.7MM per year to Dylan Larkin, and used 2022's sixth-overall pick on Austrian center Marco Kasper.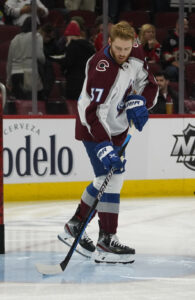 But seeing as the Red Wings are looking to exit their long rebuild as soon as next season, it's possible Detroit wanted a surer bet down the middle than Kasper.
It may take a little more development for Kasper to be NHL-ready at all, let alone ready to play center in the world's most challenging hockey league.
Compher is that surer bet, especially after a breakout season that saw him post 17 goals and 52 points. The 28-year-old former Michigan Wolverine is an ideal middle-six center, capable of contributing on both ends of the ice.
He'd be an excellent third-line center on many NHL teams or could handle second-line center duty should the Red Wings want to utilize Copp as a winger, similar to how he was used as a member of the New York Rangers.
Expecting Compher's offensive breakout to be the new norm could be folly, but he did score 18 goals in 2021-22 and has scored at around a 30-plus point rate consistently. If that's his floor in Detroit, a $5.1MM AAV is only slightly above what a team might ideally want to pay for that kind of production. If he can repeat his 52-point season and be a strong all-around center in Detroit, his cap hit will be more than well spent.
If Kasper ends up an NHL center sooner rather than later, will this end up a wise use of scarce cap dollars? Probably not, but if Red Wings GM Steve Yzerman is earnest about wanting to compete for a playoff spot as soon as next season, he can't afford to wait on a player like Kasper to fill such an important role.
Photos courtesy of USA Today Sports Images