Aside from the free agent deals for both Andreas Englund and Mikhail Maltsev, the team has also announced separate signings of goaltender David Rittich, and defenseman Steven Santini. Both players received one-year deals, while Rittich will make $875K at the NHL level, and Santini will receive $800K.
It was previously reported that the Kings were targeting a goalie to sign to a relatively cheap contract to pair with incumbent Pheonix Copley to complete their goalie tandem. They've found exactly that in Rittich, 30. Rittich spent last season as Connor Hellebuyck's backup with the Winnipeg Jets, posting a .901 save percentage in 21 games.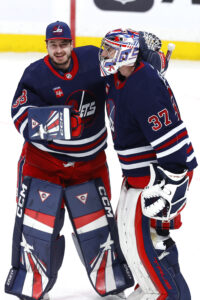 He's been a backup goaltender for the past three seasons, but before that point he received a greater workload as a member of the Calgary Flames.
Before the Flames' signing of Jacob Markstrom, Rittich received 40+ games played from the Flames and performed decently well, scoring a .911 save percentage in 2018-19 and a .907 in 2019-20.
Copley managed to post a 26-6-3 record with a .903 save percentage last season, so if Rittich can manage to post similar numbers next season the Kings should be in decent shape.
They've got quite a bit of talent all throughout their roster and seem to be looking to emulate the Golden Knights from early in these past playoffs, wherein a cheap netminder good enough to give his team a chance to win consistently is propelled to victories by a talent-rich roster.
Conventional wisdom has stated that teams need strong, reliable goaltenders to be able to have playoff success, but the Golden Knights bucked that trend by winning a Stanley Cup behind a netminder with a career-high of 27 NHL games played in a single season. Now, the Kings look to be attempting to do a similar thing.
As for Santini, he's a 28-year-old six-foot-two blueliner with 123 games of NHL experience under his belt. He's played a handful of NHL games in the last few seasons but has largely been an AHL defender in that time frame. He'll likely get a shot in training camp to make the NHL roster but will be overwhelmingly likely to play most of his games with the AHL's Ontario Reign.
The Kings faced quite a few injury issues last season, so in signing Santini, Los Angeles has secured some experienced depth in case the injury bug bites once again.
Photos courtesy of USA Today Sports Images