Free agency is less than a month away and teams are looking ahead to when it opens. There will be several impact players set to hit the open market in July while many teams have key restricted free agents to re-sign as well. We continue our look around the NHL with an overview of the free agent situation for the Seattle Kraken.
Key Restricted Free Agents
D Vince Dunn – Dunn, who will be 27 next season, is by a wide margin the most significant pending free agent the Kraken have on their roster.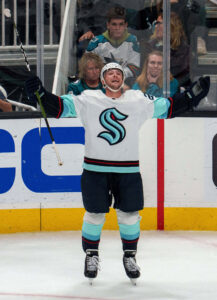 The left-shot blueliner is set to receive a sizeable raise from the $4MM AAV he played this season on after scoring 14 goals and 64 points this past season, a total that tied him for tenth in the NHL in scoring by a defenseman.
Dunn has quickly emerged as a dominant force in transition and the type of blueliner that can make a significant impact in the offensive zone.
He's not a sheltered, offense-only contributor either as he logged nearly 24 minutes per night for the Kraken, the highest average on his team. It seems as though it's only a matter of time before Dunn becomes the highest-paid player on Seattle's books.
F Daniel Sprong – While not quite to the same degree as Dunn, Sprong had an impressive breakout 2022-23 campaign. Despite averaging just 11:25 time on ice per night, Sprong finished his season with 21 goals and 46 points in 66 games, which is a 26-goal, 57-point 82-game pace. There aren't many players who could manage those types of numbers with such little ice time, yet Sprong, owner of a lethal shot, managed to do exactly that.
A former top prospect of the Pittsburgh Penguins, it had been long believed that Sprong held some untapped offensive upside but until this year he had failed to show more than sporadic flashes of offensive brilliance. The question for the Kraken to answer, then, is whether they believe Sprong's breakout is sustainable.
If they think he can repeat this performance as a productive bottom-sixer, he'll easily earn a sizeable raise from his $750k AAV. But if Seattle is more uncertain about his future, perhaps weary to invest too greatly into a player with a track record of inconsistency (who didn't have a good playoffs despite Seattle making it to the second round) then these negotiations could get dicey, especially since Sprong is arbitration-eligible.
D Will Borgen – Borgen took a major step forward in his career in 2022-23, playing in all 82 games for the Kraken as well as all 14 of their playoff contests. He was a steady presence on the Kraken's second and third pairings who also pitched in on the team's second-unit penalty kill, and his play this season likely merits a decent raise from the $900k he cost the team on his last deal.
Other RFAs: F Morgan Geekie, F Kole Lind, D Cale Fleury
Key Unrestricted Free Agents
D Carson Soucy – Operating in a similar role to Borgen, Soucy managed to play nearly all of the Kraken's games this past season and averaged just over 16 minutes time on ice with nearly two minutes each night spent on the penalty kill.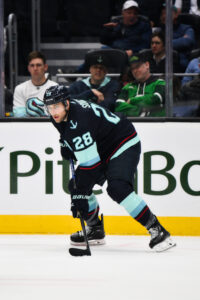 His offensive production declined slightly (from 21 points in 64 games last season to 16 in 78 games this year) but overall his play remained steady. He was a dependable defensive defenseman and offers the type of size and muscle on the blueline that many teams covet.
The Kraken are likely to want to keep Soucy around to maintain the quality of their defense, but given how well he's done in Seattle the team may have a tough time matching the outside offers that come his way.
With 2021 35th overall pick Ryker Evans a breakout star in his first AHL campaign (he has 19 points in 20 playoff games at the time of writing for the Coachella Valley Firebirds) and likely to be pushing for an NHL spot in training camp, perhaps the Kraken feel comfortable letting Soucy walk and opening the door for Evans to claim his vacated spot on the left side of the team's defense.
G Martin Jones – 33-year-old netminder Martin Jones' numbers weren't much to write home about, with his .887 save percentage in 48 games an especially weak mark, he does have one number really working in his favor: 27. That's the number of games Jones won for the Kraken, and he posted an overall 27-13-3 record. He gave Seattle enough to take home two points in the vast majority of the games he played, and in a backup role there's a lot of value in that.
With Chris Driedger and Philipp Grubauer already on their books and Daccord also in the mix, it seems relatively unlikely that Seattle will opt to bring Jones back. But although his save percentage was quite poor, he did win far more often than he lost and therefore put forth a solid argument to receive a new contract similar to the $2MM one he received last summer.
G Joey Daccord – Like the aforementioned Evans, Daccord has played extremely well with AHL Coachella Valley and his current performance likely places him firmly in the NHL conversation heading into next season. He could possibly end this season as a Calder Cup-winning goalie and he has posted a .927 save percentage through 20 games for the Firebirds. He was solid in the regular season as well, and at 26 years old looks ready to take the next step and become an NHL backup.
Whether he takes that step in Seattle is an open question, as Driedger remains on the books at a $3.5MM cap hit next season and Grubauer firmly re-established himself in Seattle by leading the franchise to their first-ever playoff series win.
In any case, he looks to be this year's Charlie Lindgren, as Lindgren placed himself in a similar circumstance a year ago via strong performances for the AHL's Springfield Thunderbirds and that summer earned himself a $1.1MM AAV deal to become the backup for the Washington Capitals. Perhaps that's what's in store for Daccord should he hit the open market.
Other UFAs: F Ryan Donato, F Joonas Donskoi, F Jesper Froden, F John Hayden, F Austin Poganski, F Alex True, F Carsen Twarynski, D Gustav Olofsson, D Brogan Rafferty, G Christopher Gibson
Projected Cap Space
This is where Seattle are in decent shape. CapFriendly projects them to have over $20MM in cap space, though that figure will be eaten into considerably by an extension for Dunn. With significant dollars set to expire in the near future (Jordan Eberle has one year and $5.5MM left on his deal, and Alexander Wennberg has one year and $4.5MM left on his contract, to give two examples) the Kraken are in a prime position to invest significant dollars in their team this summer. So far they've opted to build a team that prioritizes balance and depth, but maybe the significant financial flexibility they have this summer will lead them to chase some stars, similar to what the Vegas Golden Knights did following their first experience of playoff success.
Photos courtesy of USA Today Sports Images. Contract information courtesy of CapFriendly.