Free agency is less than a month away and teams are looking ahead to when it opens.  There will be several impact players set to hit the open market in July while many teams have key restricted free agents to re-sign as well.  We continue our look around the NHL with an overview of the free agent situation for the Ottawa Senators. 
Key Restricted Free Agents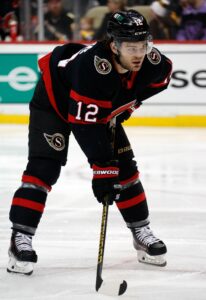 F Alex DeBrincat – Ottawa general manager Pierre Dorion has said numerous times that the team will explore all options when it comes to DeBrincat. This includes the trade market or a long-term deal. DeBrincat had an uneven first season in Ottawa but appeared to get more comfortable as the season went on. While he wasn't as good as he was in previous seasons in Chicago, he was still a machine on the powerplay putting up 11 goals and 19 assists with the man advantage. Overall DeBrincat was fine in his first season with the Senators putting up 27 goals and 39 assists in 82 games.
Ottawa acquired the Michigan native last year prior to the draft with the intention of signing him long term, however the 25-year-old forward still isn't ready to discuss a long-term deal with the Senators which has prompted Dorion to explore the trade market. Given Ottawa's needs this may be the best course of action, Ottawa has a lot of cap space tied up in the forward group and DeBrincat may be a luxury they can no longer afford.
Ottawa badly needs to improve their bottom six and goaltending situation and $9MM can go a long way towards doing that. DeBrincat will be looking for an eight-year deal on an extension and one would have to assume that it will exceed $8MM annually. The Senators may be wise to recoup their assets and try to fill out their roster with more depth as they attempt to get back to the playoffs for the first time in six seasons.
C Shane Pinto – Pinto is an interesting RFA case as he has Group 10.2 (c) status which basically means he hasn't accumulated enough playing time to qualify for Group 2 RFA status. This provision will keep Pinto from being eligible for arbitration which allows Ottawa more bargaining power when talking contract with Pinto.
In his first full NHL season Pinto was expected to handle third line center duties but was elevated when Josh Norris went down with a should injury early in the season. Pinto filled in admirably putting up 20 goals and 15 assists in 82 games. The 22-year-old saw some powerplay time with Ottawa on their second unit but did most of his damage at 5v5.
Pinto doesn't have much in the way of leverage as he enters his contract negotiations and will most likely sign a one-year deal for something between $1MM and $2MM and hope he can improve upon his performance last season and sign a longer-term deal down the road at a much higher cap number.
D Erik Brännström – Brännström took a step forward in 2022-23 as he set a career high with two goals and 16 assists in 74 games. While those numbers aren't lofty, they do represent a moderate improvement for the young rearguard. Brännström will continue to have unrealistic expectations placed on him due to his draft selection as well as the fact that he was traded for the beloved Mark Stone. While he was drafted 15th overall in 2017, it is unlikely he will ever live up to those kinds of expectations. Despite his draft position, Brännström has become a productive player who should be a good piece for the Senators as a bottom pairing defenseman should they choose to keep him.
It's hard to see Brännström topping $2MM annually on his next contract, but he could find himself pushed out of the Senators depth charts given how many left-shot defensemen the team already employs. He does still hold some value, and Pierre Dorion could view him as a piece to try and acquire forward help or another goaltender.
Other RFAs: D Jonathan Aspirot, D Jacob Bernard-Docker, G Dylan Ferguson, F Dylan Gambrell, F Julien Gauthier, D Jacob Larsson, F Viktor Lodin, G Kevin Mandolese, F Egor Sokolov
Key Unrestricted Free Agents
G Cam Talbot – Talbot came over from the Minnesota Wild in the now ill-fated one-for-one trade for Filip Gustavsson. While Talbot struggled with injuries and inconsistency, Gustavsson quickly develop into one of the best young goalies in the game and exactly the type of netminder the Senators were starving for. Dorion has already stated that Talbot will not be back, making the 36-year-old an unrestricted free agent coming off a down year in which he posted an .898 save percentage and a 2.93 goals against average. Talbot will likely be staring down a one-year deal with a cap hit somewhere between $1MM and $1.5MM with some incentives added in.
D Travis Hamonic – Hamonic came over in a trade from the Vancouver Canucks that was widely panned. Despite some shortcomings, Hamonic was relatively steady for the Senators this past season. He will never be an offensive juggernaut evidenced by his six goals and 15 assists in 75 games. But he did provide stability to Jake Sanderson during his rookie season. Sanderson praised Hamonic for the steadiness of his game and how easy it was to play with him.  At 32 years old Hamonic could still be a part of the Senators defense, but it would likely be in a bottom pairing role on a cap number far less than the $3MM he made last season.
F Derick Brassard – Brassard had his best season since 2019-20 as he put up 13 goals and 10 assists in 62 games before finishing the season on IR with an injury. While he isn't the offensive threat he was in his prime, Brassard proved that he could still provide depth scoring in the bottom six while jumping up to play on the top two lines in a pinch. At 35 years old the Hull, Quebec native might elect to hang up his skates and move on, however he is still an effective player who could find a role on a one-year contract around league minimum. Given that the Senators badly need help in the bottom six, they might be wise to hang onto Brassard as a cheap depth option who can slide up and down the lineup.
Other UFAs: G Antoine Bibeau, F Patrick Brown, F Rourke Chartier, D Nick Holden, F Jake Lucchini, F Scott Sabourin, F Austin Watson
Projected Cap Space
The Ottawa Senators provide a very good example of how quickly cap space can disappear as effective young players enter your depth charts. Just a few short years ago the Senators struggled to reach the cap floor and at times had to bring in expensive veterans on bad contracts just to reach the minimum. Now with so many good young players in the system and signed long-term, Ottawa is going to need to be creative to fill out their depth with inexpensive and effective players. This is something they haven't been able to do the past few years, but it will be of utmost importance if they are going to become a contender in the Eastern Conference. Ottawa has just a shade over $17MM in remaining cap space for next season, but they have just 13 players signed to guaranteed NHL money next year. Pierre Dorion is going to be in tough to improve upon a roster that missed the playoffs this past year and is trending in the direction of being very top-heavy. Ottawa also must contend with possibly trying to fit in another big contract extension should they decide to keep Alex DeBrincat in the fold for the foreseeable future.
Photos courtesy of USA Today Sports Images.  Contract information courtesy of CapFriendly.