Topics in this edition of the PHR Mailbag include discussion on Buffalo's goaltending situation, Philadelphia's new front office, and much more.  If your question doesn't appear here, check back in our mailbag from this weekend; there will also be one that runs tomorrow where your question might be answered.
sabres3277: As the Sabres approach the NHL Draft do you think they will address the goaltending position via a trade/free agent to ensure that D. Levi has a veteran partner and mentor? I believe the Sabres need to acquire a solid veteran defenseman to bolster the young defense. Thoughts?
When it comes to the goaltending, I'm a little on the fence.  I think they'd like to do something but there's a fine needle to thread here.  John Gibson might be available but he has four years left.  I don't think Buffalo wants to do that.  Connor Hellebuyck is on an expiring deal next season but I don't believe the Sabres would want to pay the freight of a long-term contract.  Maybe Nashville moves Juuse Saros if they're going to head into a rebuild but that's hardly a guarantee.  I don't see another trade option that makes enough of a difference to matter.
In free agency, Tristan Jarry is out there but he's not taking a short-term contract in all likelihood unless his market completely tanks.  (And if it does, a pillow deal in Buffalo would actually be pretty intriguing.)  It thins out pretty quickly after that.  Maybe Semyon Varlamov would be of interest with the idea of being a platoon goalie instead of a strict backup and he wouldn't need a long-term commitment.  He might make the most sense to me to partner with either Devon Levi or Ukko-Pekka Luukkonen (it wouldn't shock me if Levi got some run in Rochester where he could start the bulk of the games over Eric Comrie) and he could be an upgrade on what Craig Anderson brought to the table this season.
As for the defenseman, I certainly agree with you.  I had that as one of the items on their Offseason Checklist last weekend.  They have a decent top four that should continue to improve but getting one extra second-pairing-caliber blueliner would be a big hedge against injuries and inconsistency from their youngsters while also letting them balance out the ice time a little bit.  That could pay dividends down the stretch next season.
joebad34: Sabres question: It is obvious V. Olofsson will be on the trading block. His upside is 25-30 potential goals. His downside is business decisions heading into corners; that being said, can he be moved for a right-shot d-man or just a draft pick or two? What would the value be?
Frankly, I don't think Victor Olofsson's trade value is going to be all that high.  Here's a player in the prime of his career with a strong offensive game…that is seeing his ice time dip each year to the point of being a healthy scratch at times.  This is called not moving Olofsson at his high point in value, especially when he carries a $4.75MM cap charge.
Quality right-shot defenders are in short supply in high demand.  Wingers with a decent scoring touch but some warts in their all-around game are in much greater supply and much lower demand.  If Buffalo was to get a quality right-shot defender in a trade here, it'd be surprising unless Olofsson is merely salary ballast with the Sabres sending out a strong pick and/or prospect in the deal as well.  As for moving him for draft picks?  I don't see that happening; a team with $4.75MM in cap space is likely to decide that they'd be better off spending that on a free agent than trading assets for Olofsson unless it was a later-round selection which wouldn't be a great return for him by any stretch.
If the Sabres decide that they need to move on from Olofsson, I think the likeliest scenario is a swap of 'change of scenery' players.  They'd get someone else on an expiring contract at a similar price tag with the hope that the other player will fit in better than Buffalo and Olofsson will do better with the other team.  I don't think he has much more value than that in this cap-strapped marketplace.
rdiddy75: Do the Jets get rid of trio of Dubois, Scheifele, and Wheeler and retool the team?
It certainly feels like they need to do something, doesn't it?  The way they went out in the playoffs followed by Rick Bowness' pointed comments would seem to suggest they can't just run it back.  But GM Kevin Cheveldayoff has made it known that he believes in this core group and seemingly indicated in his press conference that as long as they get to the playoffs, they've accomplished something.  (At least, that was one of my takeaways from his comments.)
With that in mind, I don't think the Jets are going to choose to blow up the core just yet.  I suspect they're willing to move on from Blake Wheeler but how much of a trade market is there going to be for him at $8.25MM?  As a small market team, I'm not sure paying him $5.5MM over two years not to play for them is a move they're going to want to make.  Maybe there's a swap with them retaining up to half of his contract available but the return still won't be great.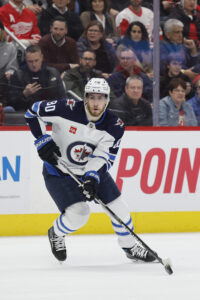 As for Pierre-Luc Dubois, I think they might hold onto him.  If you're a team interested in acquiring him, how much are you willing to pay up if you believe there's a strong chance he tests free agency?  Probably a first-rounder, a decent prospect, and either another pick or salary ballast.  But they can do that deal at the trade deadline where Winnipeg can retain half the contract, allowing the acquiring team to be able to afford another player they'd have had to clear out if they acquiring Dubois now.  Again, it comes back to my belief that Cheveldayoff thinks this core is good enough to be in the mix.  If he can get the same types of offers in February than he can now, why not run it back and hope for a hot start that convinces some pending free agents (even if it's not Dubois) to re-sign?
Mark Scheifele is an interesting case.  The run-it-back logic for Dubois applies here somewhat although with Scheifele, is he willing to sign a long-term extension this summer with Winnipeg or elsewhere?  If so, that changes the picture.  With the UFA market not being strong, if Scheifele is willing to sign a new deal now, he becomes the top middleman available and Winnipeg should be able to get a significant return, one that would justify moving him now.  But if Cheveldayoff thinks that a strong first half could persuade Scheifele to stay in Winnipeg, it wouldn't shock me if he holds on to him as well.
Long story short, yes, I think there's a shakeup coming in Winnipeg and it wouldn't shock me if none of those players are around a year from now.  I'm just not convinced it's happening this summer but rather closer to the trade deadline unless they can get a king's ransom for their two centers in the next six weeks or so.
SkidRowe: 1) If you were the Bruins' GM, how would you approach the future?
2) The Bruins' long-term core (three or more years remaining) is Pastrnak, Zacha, Coyle, McAvoy, Lindholm, Carlo. Is that good enough to rebuild around?
1) What's the saying, all good things must come to an end?  That's where things are for Boston.  They don't have many draft picks, nor do they have a particularly strong prospect pool.  Frankly, that's to be expected from a team that has tried to contend for this long.  So in the short term, I'd be looking at trying to recover some of those futures.
Matt Grzelcyk and Derek Forbort are on expiring contracts and should have some value.  I talked about in a recent mailbag the hypothetical trade value of Jeremy Swayman but if you're going to take a short-term step back, maybe it's Linus Ullmark that they should look to sell high on.  As noted earlier, there isn't a great free agent market for goaltenders nor are there a lot of viable starters that could be traded for.  Coming off a likely Vezina-winning year, he'd bring back some quality futures as well.  Up front, I'd explore moving Taylor Hall who doesn't really fit their long-term core plans.  If Jake DeBrusk isn't part of those long-term plans, he'd be on the sell list too.  Making some of those moves would help free up some cap flexibility to round out the rest of their roster while stockpiling some much-needed futures.
If they had a bit more cap space and a first-round pick in the next couple of years, I could make a case to justify trying to trade for someone like Scheifele and extending him even though it runs counter to everything I just wrote as a key center is something they really need.  If they could get that, do it and figure out the rest later.  However, I don't think they have the trade assets to do that right now.  But make some of these seller moves and maybe they'll have a shot at a move like that a year from now.
2) It depends on what you mean by good enough.  Is that the future core of another perennial contender?  Probably not.  For me, the true core would be David Pastrnak, Charlie McAvoy, and Hampus Lindholm with Swayman (under team control for three more years) part of it if he's still around next season.  That's a foundation that should be good enough to hang around the Wild Card mix but they need a true impact center if they want a shot at returning to contender status.
Unclemike1526: With the talent in this year's draft, I don't see the possibility of the Hawks trading up far from 19. Maybe a couple of spaces even with four 2nd rounders and two 3rd rounders. How far do you think they can realistically move up? Obviously, they're not trading Bedard, But I'm sure they would love to move up from 19. Barring that, who are some guys they could use those picks to trade for players already in the NHL, that they might like?
It has gotten awfully difficult to trade up lately, especially last year where the only pick swap in the first round was 11 for 27, 34, and 45 with San Jose deciding that they were better off with adding some extra picks to a prospect pool that isn't the deepest.  That was in a weak draft.  In a strong one, I could see teams being more protective of those early selections.  If Chicago wanted to move up a few spots, I think there's a way to do it that would get them to somewhere between 14-18 but it would be dependent on one of those teams losing out on the player that they were hoping to get.  Every year, we hear GMs talk about how they were trying to trade up (or back into the late first round) and just couldn't find anyone willing to do so.  That could very well happen here.
Honestly, I'm not sure that their best asset to try to move up is their extra picks.  Instead, I think their cap space could be.  For example, Pittsburgh (at 14) is a team that could benefit from creating some cap room.  If the Blackhawks were willing to take on Mikael Granlund's remaining two years, for example, would that be good enough for the Penguins to slide down to 19; is the extra cap space worth dropping down?  I suppose Calgary at 16 could be an option as well as they're quite capped out although there isn't an obvious contract to fit into a framework like this.  Vancouver at 11 could be a possibility as well although Chicago would probably have to take a sizable deal back for the Canucks to slide eight spots.
As for flipping those second-rounders for players, there are too many players to list.  With so many teams being tight to the cap, they could get some good players if they wanted to flip those picks.  I just don't think they're intending to do that.  Getting the top pick isn't going to flip the switch and end the rebuild.  They're not a player or two away from being a playoff contender so why deviate from the course now?  Get those prospects in the system and then when they are ready to start adding to their roster again, they can deal from their picks or their prospect pool for those players.  I could see Chicago trading out from 55 outright to get a 2024 second-rounder, giving them a possible chip to move for a player at that time if they think they're ready to flip that switch next offseason.
Black Ace57: What do you make of the Flyers' new front office approach? I personally think Briere and Jones will do a good job helping rebuild the Flyers brand, but what are the chances of power struggles between the FO and Tortorella with this setup?
I wasn't a big fan of the Keith Jones hiring, to be honest.  If you're going to go with a first-time GM as they did in Daniel Briere, having someone with legitimate front office experience to go with him seemed like something they should have been looking for.  Granted, Jones knows the Philadelphia market better than any other external candidate that would have been considered and that counts for something, especially from a marketing standpoint.  But he doesn't have a real background in contract negotiation, agent relations, etc.  They're going to need an experienced assistant GM to help fill some of those gaps.
I don't think there's going to be much of a power struggle, to be honest.  John Tortorella knows that he doesn't have a lot of years left in this league, that's just a reality of a veteran coach nowadays.  If he tries to go over Briere's head when there's a disagreement on personnel moves, I'd think the franchise would side with the up-and-comer and Tortorella would be out of a job.  I don't mind the idea of him having some say.  All coaches do to an extent and Tortorella has been around long enough that he knows a lot of players and can help fill in some gaps with an inexperienced front office.  As I noted with Jones, this isn't the exact route I'd have gone if it were up to me but I think it'll work out well enough.
FearTheWilson: I've been a diehard hockey fan since I saw my 1st hockey game in 1992. I've never lived in one place long enough to ever like one team more than another. I just love the game and everything about it. It's the greatest sport on earth by far and the playoffs are so intense that if you can't enjoy them, I can't even respect you. That said, I'm done watching. It used to be the best team wins. Now it comes down to which team gets the benefit of the refs' horrible calls. I understand that the game is played at an extremely high pace and human error is unavoidable. Bad calls happen and it's just part of the game. But these officials get worse every year. The refs miss so many obvious calls yet they're so quick to call the softest infraction. They can't even get the call right after reviewing it on their tablets for 10 minutes. Each linesman calls icing differently. The Department of Player Safety is so clueless its comical. It all blows my mind. The only consistency the officials display is their inconsistency. It's truly pathetic.
Hockey is a sport with a culture like no other. These guys play through injuries that would send most people to the ER. The softest player in the NHL would still be the toughest player in the MLB, NBA, or MLS. It's just so sad that a sport as great as this is way too often decided by the flakes in zebra stripes.
I read everyone's comments about how the refs or the league are against your team. But you're wrong. The officials are so clueless I'm pretty sure they don't even know which teams are on the ice. They're not biased they're useless!
So my question is… am I wrong?
I won't bother getting into the usual platitudes as you've summed them up nicely already.
To me, the current state of officiating is a by-product of two things.  One of them is the improvement in technology where it's so much easier to see mistakes.  As viewers, we have the ability to pause and slow things down with a crystal-clear picture.  One network that has regional rights for a few teams has a rotatable camera that can be viewed on a second screen where viewers can even get their own angles, ones that aren't even available on the broadcast.  A generation of officiating ago, you were lucky to get one or two replays if the game happened to be televised and it wasn't exactly in high definition.  Of course more mistakes are going to be found now.  To take nothing away from the now-retired officials, I think they made plenty as well, but a lot of them didn't get noticed.
The other is a trickle-down effect from the change to two referees.  If things were still under the old system, half the referees up now would be in the AHL.  Those in the AHL would be in the ECHL or major junior, and so forth.  Now, by necessity, officials are moving up the ranks quickly to the point where I think some of them are getting into the NHL quicker than they probably should be.  This is a job that's in high demand but clearly isn't the easiest to fill (and with the grief they get, perhaps not the most desirable at the lower levels either).  Some consistently inconsistent referees is the end result.
Unfortunately, I don't see much of a solution.  Hockey isn't an easy sport to officiate.  That's not a cop-out answer either, that's just the way it is.  There are few black-and-white plays to call during a game; a lot is open to interpretation.  Yes, hammering home more of a uniform standard for offside and icing would be nice but I'm pretty sure they're already trying to do that.  But I think these are the best officials available, especially compared to how things are being called at the World Championship where the inconsistency on a game-to-game basis is considerably more noticeable than an NHL contest.  This is something where there just isn't a quick fix.
Photo courtesy of USA Today Sports Images.