The first domino on the NHL's head coaching market could fall as soon as this week. According to The Athletic's Aaron Portzline, Columbus Blue Jackets general manager Jarmo Kekalainen has told people involved in the team's head coaching search process "that he'd like to have a new coach in place before he heads to the IIHF World Championships in Europe on May 21." (subscription link)
That gives Kekalainen a seven-day window, including today, to finalize his team's next bench boss, although Kekalainen has said "It doesn't always go on the schedule" and that he'd "rather make the right decision than the quick decision."
In terms of possible candidates for the team's head coaching vacancy, two days ago we covered news that the team was considering promoting former head coach Brad Larsen's top assistant, Pascal Vincent, to the head coaching role. This would be a similar result to the Blue Jackets' last head coaching search, when John Tortorella's top assistant, Larsen, was promoted.
Portzline adds that while Vincent is "held in high regard across the league, especially as an Xs and Os coach," his appointment would "no doubt rankle many in the fan base" who have been seeking more substantive change behind the bench for the organization.
One additional aspect of this head coaching search to note is about cost. According to Portzline, "there is a pervasive question across the league" about "whether the Blue Jackets are willing to pay the freight for an established coach."
Kekalainen did say that the team would "absolutely" pay top dollar for a head coach, and that the position of the team's ownership has always been "about finding the right coach and making sure we get a deal done" regardless of cost.
It's difficult as outside observers to truly get a handle on the Blue Jackets' willingness to pay top dollar for NHL head coaches, and whether the team ends up hiring a veteran name or more of an up-and-comer ultimately isn't a clear indication either way. They could always end up simply preferring a less experienced coach, even if they are fully willing to shell out for a proven veteran, and that preference could be entirely fair.
The status of one candidate could be revealing in terms of the organization's priorities in experience and cost in this search: Gerard Gallant. The 2017-18 Jack Adams Award winner coached the Blue Jackets for parts of three seasons starting in 2003-04, amassing a 56-77-5 record in what was his first stint as an NHL head coach.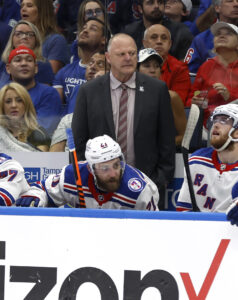 Portzline reports that the organization has, as of yesterday afternoon, not yet requested an interview with Gallant.
As he's under contract with his former club the New York Rangers for another season, the Blue Jackets would need to get permission from their division rival in order to interview Gallant.
Should Gallant end up being the choice, it would be a quick turnaround for the veteran bench boss and one that further signals a desire from Columbus to compete in the standings as soon as next season.
Kekalainen has already said that the organization would "100 percent" consider dealing the first-round pick they received from the Los Angeles Kings in the Vladislav Gavrikov/Joonas Korpisalo trade in a prior interview with The Athletic's Pierre LeBrun, assuming they are offered "the right piece." (subscription link)
With the opportunity to select third overall at the draft and possibly land a player who could become the superstar number-one center the franchise has lacked for much of its existence, (such as Swedish pivot Leo Carlsson, Hobey Baker winner Adam Fantilli, or USNTDP star Will Smith) this is shaping up to be an offseason of great consequence for the future of the Blue Jackets.
If the team is indeed intent on competing quickly after such a disappointing season and giving last summer's top free agent signing Johnny Gaudreau as good of a chance to win games as possible, this next week where the Blue Jackets will likely determine their next head coach will be a crucial one.
Photos courtesy of USA Today Sports Images