Welcome to PHR's Big Hype Prospects series. Like the MLB Trade Rumors series of the same name, we're taking a look at the performances of top prospects from across the hockey world. We'll look at drafted prospects who are rising, others who are struggling, and prospects for the upcoming draft who are notable.
Seven Big Hype Prospects
Graeme Clarke, RW, New Jersey Devils (Utica Comets, AHL)
68 GP 25G 33A 58pts (regular season) 6 GP 2G 4A 6pts (playoffs)
An example of a player whose development was slowed down due to the COVID-19 pandemic, 2019 third-round pick Clarke had a true breakout season this year for the AHL's Utica Comets.
Spending most of the season as an age-21 player in a league with quite a few grizzled veterans, Clarke became the Comets' go-to offensive option, and saw his production spike up as a result.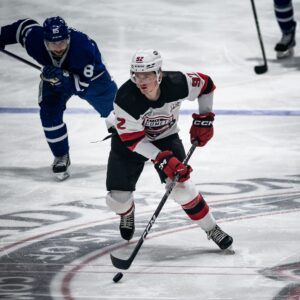 Over the past two campaigns, Clarke totaled 42 points in 83 games, a fine total but perhaps not the dominating number the Devils might have hoped to see.
This season, though, Clarke led Utica in scoring and helped them reach the Calder Cup playoffs, where they swept the Laval Rocket in the best-of-three opening-round series.
His screen on Rocket netminder Cayden Primeau paved the way for Reilly Walsh's stunning last-second tying goal in the clinching game of that series. While 2020 seventh-overall pick Alexander Holtz was listed higher in the lineup when healthy and available to Utica head coach Kevin Dineen, Clarke was the Comets' lasting offensive centerpiece.
Despite his dramatic improvements in the AHL, the now-22-year-old Clarke didn't get a call-up to the NHL, and is still yet to make his NHL debut. Look for that to change next season. While Clarke may not end up the same offensive generator for the Devils as he is in Utica, this season proved how adaptable his offensive approach was to the professional game, where time and space with the puck is limited and scoring chances are harder to come by.
Assuming he's able to win a job in training camp and continue his upward trajectory, Clarke could provide serious value to the Devils next season at his $850k cap hit. Veteran forwards Erik Haula, Tomas Tatar, and Miles Wood are set to hit free agency in the summer, and significant pay raises for Jesper Bratt and Timo Meier are likely to come. As a result, if Clarke is able to establish himself as an NHLer next season the Devils stand to benefit greatly from his low cap hit.
Sam Rinzel, RHD, Chicago Blackhawks (Waterloo Black Hawks, USHL)
58 GP 9G 27A 36pts (regular season) 3 GP 1G 2A 3pts (playoffs)

As a late June birthdate, it wasn't a surprise to see Rinzel, a 2021 first-round pick, spend another year in the USHL, even if it is relatively uncommon for players drafted that high to do so. Blackhawks fans could not be blamed for hoping to see the toolsy Rinzel dominate that level of competition before heading to the University of Minnesota this coming fall.
They'd have to be at least slightly disappointed, though, as Rinzel's performance this season in the USHL, while totally acceptable, could not be characterized in any way as dominant. The rangy six-foot-four blueliner was tied for second on his team in scoring with 36 points in 58 games, behind Ben Robertson, who is ranked 193rd among North American skaters by NHL Central Scouting for this summer's NHL draft, and tied with undrafted overager Aaron Pionk.
Rinzel being drafted so high was never about his production, of course, it was all about the tantalizing tools the defenseman offers. Those tools are still present in his game, and the "wow" factor that the Blackhawks were so enamored with is often evident in his play. But at a certain point, one would hope that Rinzel's tools would translate into more dominant play, that the frequent flashes of greatness would materialize into something more tangible, such as outstanding production.
As one of the more divisive first-round picks of last year's draft (Rinzel was ranked as high as 28th, by McKeen's hockey, and as low as 62nd, by FCHockey) the hope would be that Rinzel would use his first season as a Blackhawks prospect to silence all his doubters and place himself on extremely strong footing heading into his debut season of college hockey. That didn't exactly happen, but he nonetheless reminded observers of the elite potential he possesses.
It'll likely be an extended development process with Rinzel, which is fine given the extended rebuild the Blackhawks have embarked on. If nothing else, Rinzel will be among the first-year players to watch in college hockey next season.
Dylan Garand, G, New York Rangers (Hartford Wolf Pack, AHL)
32 GP 13-14-3 .894 SV% 3.01 GAA (regular season) 8 GP 5-3 .935 SV% 1.76 GAA (playoffs)
Something that can go a bit under-appreciated in the areas of prospect development is just how difficult the transition between being a goaltender at the junior hockey level and the professional level can be. Some netminders make it look easy, of course, such as Calgary Flames prospect Dustin Wolf, who has torn the AHL apart across two seasons and recently was named the league's MVP.
Others can face significant struggles often seeing the stardom they experienced at earlier levels dissipate quickly, as Flames prospect Tyler Parsons did years ago, going from the top save percentage in the OHL in 2016-17 to a career .888 save percentage in the AHL.
At many times during his rookie season in the AHL, it looked as though Garand, the Rangers' top goalie prospect, was going to be among the strugglers. Last season's CHL Goalie of the Year posted a grisly .894 save percentage this season, a good measure below organizational number-three netminder Louis Domingue, a veteran who cruised to a .911 save percentage despite Hartford enduring an up-and-down regular season.
There were games where he simply looked overmatched by the heightened level of competition the AHL presents and the speed of the game when it gets played entirely by grown professionals. But at times he did shine, such as in his final three regular-season starts, when he saved a combined 89 out of 94 shots. It's Garand's playoff performance, though, that has truly injected some life into an otherwise disappointing rookie AHL season.
Garand let in just two goals on 45 shots in Hartford's opening-round sweep against last season's Eastern Conference champions, the Springfield Thunderbirds, and then he and the Wolf Pack stunned the East's top-seeded Providence Bruins with a Game One shutout and a 29-saves-on-3o-shots performance in Game Two. Garand's 32-save shutout in Game Four eliminated Providence, and while Hartford has taken a step back as a whole against the Hershey Bears and are now on the brink of elimination, Garand's play has undoubtedly been a bright spot.
The Rangers are, of course, set in goal moving forward with last season's Vezina Trophy winner Igor Shesterkin still just 27 years old arguably the team's best player. But if Garand, who turns 21 next month, can continue his playoff performance into next year's regular season, he could quickly push himself into the NHL conversation. If that ends up being the case, it's possible that New York could have another talented number-two netminder on their hands.
The Rangers have a more extensive recent history of exporting their backup netminders across the league than other franchises, with names such as Cam Talbot, Antti Raanta, and Alexandar Georgiev moving on to starting roles with other teams after their Rangers tenures. If his performance in the CHL and recently the Calder Cup playoffs is any indication, Garand could very well end up the next name on that list by the time he reaches a similar age.
Emil Heineman, LW, Montreal Canadiens (Laval Rocket, AHL and Leksands IF, SHL)
11 GP 7G 2A 9pts (regular season, AHL) 2 GP 0G 0pts (playoffs, AHL) 35 GP 8G 7A 15pts (regular season, SHL)
Just looking at Heineman's box score numbers from his three seasons as a regular with Leksands IF in the SHL, it would look as though Heineman has plateaued in his development. After all, he scored 13 points in 2020-21 and 15 in 2022-23, with slightly improved points-per-game marks each season. Combined with the fact that Heineman has already been traded twice since being selected in the second round of the 2020 draft, it might look like Heineman's stock is in a bit of a shaky place.
In the eleven regular-season games he played for the Laval Rocket after coming over from Sweden, Heineman proved he was more than just a throw-in name from two relatively high-profile trades. While he slowed down a little bit in his final games including the playoffs, Heineman scored an impressive seven goals and two assists in his first eight games in the AHL.
His contributions came at a time when Laval desperately needed a boost to get into the Calder Cup playoffs, and the argument could be made that it's the immediate contributions Heineman gave them that put Laval into the playoffs for a second consecutive season.
There's an argument to be made that the positive traits of Heineman's profile, namely his motor, physicality, and intensity, play better on smaller North American ice surfaces. The winger seemed to agree, telling The Athletic last month: "I like the small rink, I can use my shot a lot more." (subscription link)
With Jesse Ylonen, a top-six staple in Laval over the last two seasons, set to become waiver-eligible for the first time next year and expected to graduate to NHL duty with Montreal, it's likely that Heineman will be counted on to fill the offensive void Ylonen leaves. And if he can continue his hot start to his AHL career into full-time work next fall, a call to Martin St. Louis' squad could come sooner rather than later for Heineman.
LHD Pavel Mintyukov, LHD Olen Zellweger, RHD Tristan Luneau, Anaheim Ducks (Ottawa 67s, Kamloops Blazers, Gatineau Olympiques, respectively)
80 GP 24G 73A 97pts (Mintyukov), 69 GP 43G 66A 109pts (Zellweger), 78 GP 22G 78A 110pts (Luneau)
A few days ago, the Anaheim Ducks made NHL history by becoming the first team to have prospects in each of the three Canadian Hockey Leagues (QMJHL, OHL, WHL) named their league's defenseman of the year. Mintyukov, last year's 2022 10th-overall pick, was given the honor by the OHL, while Zellweger and Luneau, second-round picks in back-to-back years, were given the honor by the WHL and QMJHL, respectively.
These awards cap off seasons that featured almost stunning offensive production for each player. In Mintyukov's case, this season was an opportunity for him to move from Saginaw, a team he led in scoring in his draft season, to an Ottawa 67's team that came in first in the OHL's regular season, going 52-12-5. The six-foot-three blueliner has a chance to make the NHL with Anaheim next fall, and could be an instant-impact contributor for the franchise.
For Zellweger, this season was further evidence of how talented he is as a generator of offense from the back end. A dynamic skater, Zellweger's production reached another gear after a trade to the Blazers, where he joined with high-flying Dallas Stars prospect Logan Stankoven. Together, they combined for nearly 60 points in just 14 (!) playoff games, though that effort was still not enough to get them past the Seattle Thunderbirds, a team rostering five NHL first-round picks.
Moving on to Luneau, his 2022-23 season was the dominant campaign that many saw him as due for after he was drafted first overall at the 2020 QMJHL entry draft. Luneau led the Olympiques to the QMJHL's fourth-best record and his 17 points in 13 playoff games helped them reach the playoff semifinals, where they were swept by the top-seeded Quebec Ramparts. (who yesterday lost the first game of their entire playoff run)
Luneau's season proved that the still possesses the sky-high potential he flashed earlier in his minor hockey career, and seeing as he won't turn 20 until 2024, he'll have the chance to dominate the QMJHL for another season.
All three players' trophy wins represent a significant achievement for the Ducks' scouting staff. They have identified some extremely talented players and spent some premium resources to get them, and now as a result Anaheim has arguably the most promising pipeline of defense prospects in the entire NHL.
Photos courtesy of USA Today Sports Images