Free agency is now a little more than a month away and teams are looking ahead to when it opens.  There will be several impact players set to hit the open market in July while many teams have key restricted free agents to re-sign as well.  We continue our look around the NHL with an overview of the free agent situation for the Chicago Blackhawks.
Key Restricted Free Agents
F Philipp Kurashev – Finishing off his third season in the NHL, Kurashev has yet to break out in any significant way with the Blackhawks. He was able to provide some decent depth scoring over the last two seasons, playing in a total of 137 games, scoring 15 goals and 31 assists. This year, due to the roster construction in Chicago, Kurashev was able to average about 17 and a half minutes on the ice, almost five minutes more than the previous season.
Unfortunately, on March 23rd of this year, Kurashev injured his shoulder, keeping him out for the rest of the season. Although he has been unable to have either an offensive or defensive breakout, he should be able to receive an ample amount of playing time in Chicago. The expectation is that the Blackhawks will select Connor Bedard with the first overall selection next month, which will likely be the most significant acquisition of the team over the summer. If this is the case, there are no other players that should eat into Kurashev's minutes in the Windy City.
F Anders Bjork – After being acquired from the Boston Bruins on the other half of the Taylor Hall trade, Bjork was supposed to continue to grow into an offensive talent for the Buffalo Sabres. Unfortunately, that did not come to fruition for either side, and Bjork was sent to the Blackhawks for future considerations at this year's trade deadline. In a handful of games for Chicago, Bjork did show some offensive prowess, scoring two goals and six assists in 13 games.
D Caleb Jones – Coming over from the Edmonton Oilers to play with his brother, Seth Jones, Caleb has become heavily utilized by the Blackhawks. After all was said and done this season, Jones finished third in average ice time on Chicago, only placing behind his brother and Connor Murphy. He has shown quite the ability to block shots and make hits, accruing over 100 of each this past year. As the Blackhawks look to create their next generation of hockey talent, Jones should add some extra stability throughout this transitional process.
Other RFAs: F Austin Wagner, D Ian Mitchell, F Joey Anderson, F Hunter Drew, F Maxim Golod, F Cameron Hillis, D Jakub Galvas, D Alec Regula
Key Unrestricted Free Agents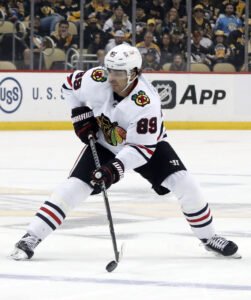 F Andreas Athanasiou – Thought to be a rental heading into this season, Athanasiou performed rather well for Chicago. Needing a grain of salt when analyzing the output from any player on the roster this season, Athanasiou was still able to score 20 goals and 20 assists, finishing third on the team in points (first place after the trades of Patrick Kane and Max Domi)
Although he would likely receive first-line even strength and power play minutes on this Blackhawk's team, Chicago will have to make a decision on whether or not Athanasiou will be the appropriate winger to place with Bedard. If the team does go ahead with that option, Athanasiou may once again look for a one-year deal, raising his offensive output next to Bedard, and fully cash in next summer.
If Athanasiou does test the open market, he shouldn't have any shortage of suitors, being that he can provide above-average secondary scoring to just about any team in the NHL. Although failing under the leadership of Todd McLellan and the Los Angeles Kings, Athanasiou has shown a talent to score throughout his entire career.
F Jonathan Toews – The only thing that has been confirmed about the future of Toews is that he will not be on the Blackhawks next season. Moving forward, especially taking into account his health issues and injury history, Toews will likely serve in a bottom-six role on a contending team next season if he does choose to play. At the time of the announcement, Chicago was unaware that it would have the privilege of selecting Bedard at the 2023 NHL Draft, but Toews would seem like a natural fit to help Bedard adjust to NHL life.
G Alex Stalock – Hampered by a bout of myocarditis losing him just about all of the 2021-22 NHL campaign, Stalock rebounded nicely for Chicago this year. He still dealt with some injury issues, but Stalock was able to post a 9-15-2 record, coupled with a .908 SV% and a 3.01 GAA. These numbers should find Stalock a backup role next year, and he eventually may find his way back to the Blackhawks. However, with Petr Mrazek receiving the largest share of starts, and the rise of Jaxson Stauber and Arvid Soderblom through the Chicago organization, Stalock may find himself elsewhere next season.
Other UFA's: F Jujhar Khaira, D Andreas Englund, F Buddy Robinson, D Andy Welinski, G Anton Khudobin
Projected Cap Space
For the foreseeable future, cap space shouldn't be an issue for the Blackhawks. Heading into this offseason, the team will have $41.7MM available to spend, and they should be able to weaponize that through trades. Even if the team makes a splash by bringing in another high-profile player to slot up next to Bedard, Chicago will still have ample space to take on a bad contract or too from cap-strapped teams.
Although the likes of Mrazek, Tyler Johnson, and Nikita Zaitsev will all be available for contract extensions on July 1st, Chicago likely will not be making any extensions like this yet. As prospects such as Kevin Korchinski, Frank Nazar, and Lukas Reichel make the full-time jump to the NHL, and factoring in the likely draft choice of Bedard this June, the Blackhawks will have a lot of flexibility moving forward to keep these young players for the long haul.
Photos courtesy of USA Today Sports Images.  Contract information courtesy of CapFriendly.