The regular season has come to an end and as is often the case, there was plenty of notable news around the NHL which is recapped in our key stories.
Pittsburgh Shakes Up Front Office: After missing the playoffs for the first time since 2006, changes are coming in Pittsburgh as the team fired GM Ron Hextall, assistant GM Chris Pryor, and President of Hockey Operations Brian Burke.  Hextall and Burke hadn't been at the helm for long with their tenures lasting a little over 26 months in total.  However, the Penguins haven't had much on-ice success over that stretch and many of their moves made over the past year haven't worked out as intended.  Whoever takes over for Hextall will be tasked with navigating a tough salary cap situation to try to get Pittsburgh back into the postseason as it's hard to see them entering a rebuild with as many core veterans locked up as they have.
Five For Gaudreau: It's safe to say that Wild center Frederick Gaudreau has been a late bloomer.  He only became a truly full-fledged regular last season at the age of 28 but has quickly become a reliable secondary part of Minnesota's attack.  He was rewarded for his efforts with a five-year, $10.5MM extension that begins next season, a deal that more than doubles his career earnings thus far and gives him some long-term stability for the first time.  Gaudreau set a new career high in goals with 19 this season while picking up 38 points, six shy of his benchmark from a year ago.  On top of that, the 29-year-old led all Minnesota forwards in shorthanded ice time.  If he continues to play at this level, this contract should become a team-friendly one fairly quickly.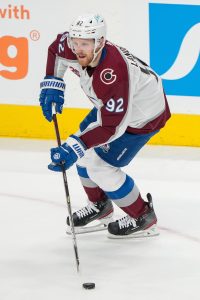 Landeskog Won't Return: Throughout the year, the recovery timeline for Gabriel Landeskog's knee injury kept getting pushed back but there remained optimism that he'd be back for the playoffs.  That won't be the case, however, as he has been ruled out for the entire postseason.  In the end, instead of missing 12 weeks after undergoing surgery in October, he'll wind up missing at least 12 months assuming he's cleared to return for the start of 2023-24.  While Colorado won the Central Division, Landeskog's absence will certainly be felt as they look to repeat as Stanley Cup champions.  Last season, the veteran had 59 points in 51 games in the regular season before adding 22 more in 20 playoff contests.
Coaching Changes: As is often the case when the season ends, coaching changes have started around the league.  First, on Friday, the Ducks announced that they won't renew the contract of Dallas Eakins.  He spent four seasons behind the bench in Anaheim but they managed just 100 wins over that stretch in 291 games.  Then, the Capitals revealed that they and Peter Laviolette had mutually agreed to part ways.  Laviolette was at the helm for three seasons with the team posting a 115-78-27 record along the way.  He will likely come up as an option for the other openings this spring.  Then, on Saturday, the Blue Jackets parted ways with Brad Larsen after just two years.  Columbus underachieved under his tutelage, posting a record of just 62-86-16.  All three teams will now begin their searches for their new bench bosses.
Moving On: At this point, it remains unclear whether Jonathan Toews will play next season; there has been some recent speculation that he might retire.  However, if he does come back for a 16th NHL campaign, it won't be with Chicago as the team announced that they will not be re-signing the 34-year-old.  Toews, who scored in his final game with the Blackhawks, winds up his time with the franchise with 883 points in 1,067 games plus a trio of Stanley Cup titles.  All in all, Chicago did quite well selecting him third overall back in 2006.
Photo courtesy of USA Today Sports Images.