The Anaheim Ducks won't renew the expiring contract of head coach Dallas Eakins, the team announced in a release Friday morning.
Eakins has been at the helm of the team since the start of the 2019-20 season. Anaheim made the decision following a season that finished beneath already low expectations, finishing last in the NHL with 58 points.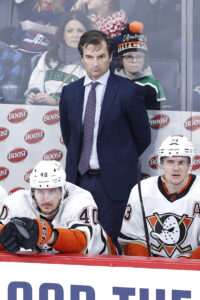 Under Eakins' leadership, the Ducks were one of the worst defensive teams of the post-lockout era in 2022-23. Their 4.09 goals against per game were the highest in a single season since the 1995-96 San Jose Sharks.
"This was a very difficult decision, one that comes after careful and considerable deliberation," said Ducks general manager Pat Verbeek. "At the end of the day, I simply feel that a fresh perspective and new voice will be beneficial for the team. Dallas has handled himself with class and character through a difficult season, and we wish him the best in the future."
Eakins previously served as head coach of the Edmonton Oilers from 2013 to 2015. This was his eighth season with the Ducks organization, having served as the head coach of their AHL affiliate, the San Diego Gulls, from 2015 to 2019.
The Ducks have not announced an interim or permanent replacement for Eakins. This is the first NHL head coaching vacancy of the 2023 offseason, with other expiring contracts including Washington's Peter Laviolette and New Jersey's Lindy Ruff, as noted by Pierre LeBrun of TSN and The Athletic.
Despite their recent struggles, Anaheim's next head coach will be leading with a stronger, more developed foundation in place. They'll have the benefit of a more experienced Trevor Zegras, who led the Ducks with 65 points in 81 games this season.
The Ducks will also have defenseman Jamie Drysdale returning from injury next season. The team's first-round pick in the 2020 NHL Draft played just eight games in 2022-23 before a shoulder injury ended his campaign.
Their talented young core will also receive a big boost this offseason, with the team now guaranteed a top-three pick in the stacked 2023 draft thanks to their last-place finish. With a new head coach in place, the Ducks will look to return to competitiveness in the near future. For this offseason, though, the focus rests on finding the right voice to lead the third generation of Ducks stars after Paul Kariya, Teemu Selanne, Ryan Getzlaf, and Corey Perry in the right direction.