The Pittsburgh Penguins have made another trade. The team has acquired forward Mikael Granlund from the Nashville Predators in exchange for a 2023 second-round pick.
Penguins GM Ron Hextall had the following to say about this trade:
Mikael is a versatile forward, able to play either wing or center, and contribute offensively. He has experience on both the power play and penalty kill and can add options to our lineup.
By acquiring Granlund, Pittsburgh has not only added an experienced top-six player to their lineup, but they have also signaled their intention to invest in this season's Penguins team with the hope of going on a playoff run. While the Penguins remain in playoff position, the team has (recent three-game winning streak aside) stumbled as the calendar shifted to 2023.
Their struggles led to calls from fans and local media members alike for the organization to fire Hextall, but this trade indicates that the organization believes that the team's underperformance is a bug, not a feature.
This season, Granlund has scored 36 points in 58 games, and averaged over 18 and a half minutes of ice time with some sporadic penalty-killing time. While his offensive production is down from last season, he scored 64 points last season and is under team control for another two seasons after this one at a $5MM cap hit that's reasonable given his resume.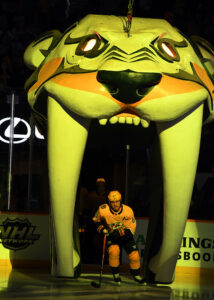 He's not the ascending young player anymore that he was on the Minnesota Wild, and some underlying numbers have soured on him this year, it's easy to see why the Penguins are optimistic about what he could bring to their lineup.
Penguins head coach Mike Sullivan has quite a few options for how to approach adding Granlund to his lineup and has to be thrilled to have a new, highly capable forward to work with. The 31-year-old Finn can play both at center and as a winger, and his well-respected two-way game gives him added on-ice versatility.
The Penguins could opt to have him replace Jeff Carter as the team's third-line center, letting the 38-year-old vacate an everyday role in the midst of what has been a nightmare season. They could also shift Carter down to the fourth line in Blueger's vacated spot, although one would think that offseason trade acquisition Ryan Poehling would be preferable there.
Sullivan could also keep Carter entrenched as the third-line center and use Granlund to shuffle the team's top six. Since Evgeni Malkin has had his fair share of injury issues in recent years, Granlund's ability to play center will be of significant value should Malkin find himself knocked out of the lineup.
At the price of a second-round pick, the Penguins have added a player who figures to make their team better for this season and for a few years to come. Is it the wisest move for a team to make when they're widely seen as being a cut below the heavyweights of the Eastern Conference? Maybe not, especially seeing as Granlund hasn't been as productive this season, and at 31 years old that could be a signal of an age-related decline.
But with Malkin, Sidney Crosby, and Kris Letang all inching deeper into their thirties, the Penguins are looking to maximize whatever time they have left with their franchise icons. Every passing year could conceivably be the last of that trio as elite players, and this trade shows that the Penguins are serious about trying to make noise this spring.
For Nashville, this deal continues their decision to pivot towards building for the future. With Barry Trotz now back in the fold and set to fully take the reins from GM David Poile in the Summer, the team is charting a new direction in its search for a contender. Mattias Ekholm, Tanner Jeannot, and Nino Niederreiter have all been dealt already, and Granlund adds another draft pick to their growing stockpile.
The Predators give up a player who figured to be a top-six staple for the next few years, but since they don't seem as intent on short-term Stanley Cup contention, it's easy to see why the pick is more valuable.
Additionally, in today's flat-cap environment, it's extremely difficult to move money without taking dollars back. The value of the Predators clearing Granlund's $5MM off their books without having to retain or take any contracts back is definitely an important element of this trade.
Nashville now has five second-round picks over the next two drafts and could add more if they choose to trade any more veteran players. While the Predators' coaching staff can't be thrilled to lose such a capable veteran, Predators fans that have long hoped the team would pivot towards a more rebuild-like direction seem to be finally getting their wish.
Sportsnet's Elliotte Friedman was first to report on Granlund being traded to Pittsburgh. 
Photos courtesy of USA Today Sports Images