While some speculated that he may have been a name traded at today's deadline, the deadline is now passed and Nashville Predators defenseman Dante Fabbro has actually signed an extension with the team, not been traded. According to Sportsnet's Jeff Marek, he has signed a one-year, $2.5MM extension.
Last month, we covered Fabbro's situation with the Predators, citing reports that the team had explored the possibility of trading the defenseman, potentially to an in-conference rival such as the San Jose Sharks. The 24-year-old defender has had a difficult season, seeing his production and ice time decline from last year. Last season, the smooth-skating former Boston University Terrier scored 24 points in 66 games and averaged over 19 minutes of ice time per game.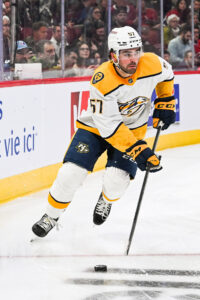 This season, Fabbro has managed just eight points in 56 games and has seen his average ice time drop to just 16 minutes per game, with nearly a minute and a half of that coming on the penalty kill. While some believed that a change of scenery was necessary for the 2016 first-round pick, such a change did not come before today's trade deadline and he has instead secured a contract for next season containing a $100k raise.
This does not, of course, rule out the possibility that Fabbro will be traded in the offseason and eventually receive that change of scenery that some believe he needs. What this does mean, though, is now on a more talent-depleted Predators team Fabbro will have the opportunity to finish his season on a strong note and potentially even impress the team's new general manager, Barry Trotz, who will take after the season.
Securing this extension might have been made especially pressing given the Predators' acquisition of Tyson Barrie from the Edmonton Oilers, as his addition to their lineup means that now Fabbro has two players (Barrie and Alexandre Carrier) above him on the Predators' right-shot defenseman depth chart. Especially if the Predators decide to keep Barrie beyond this season (which admittedly seems unlikely at this stage given the amount of veterans they have shipped out) Fabbro's future in Nashville, even with this extension, could be made all the more unclear.
No matter what, though, Fabbro's contract for next season is secured and that means he'll be afforded the opportunity to continue his growth as an NHLer and potentially realize some of the promise that got him drafted 17th overall in 2016.
Photos courtesy of USA Today Sports Images