The Columbus Blue Jackets have recalled center Josh Dunne from their AHL affiliate, the Cleveland Monsters.
The move is on an emergency basis, and is meant to reward someone who Blue Jackets GM Jarmo Kekalainen said, per team reporter Jeff Svoboda, deserves a look in NHL games during what remains of this 2022-23 season.
Dunne, 24, is a rangy six-foot-four center who signed with Columbus two seasons ago as an undrafted college free agent. Dunne played three seasons at Clarkson University, captaining the squad in his final season there.
Dunne was an impact player for the program, tallying 55 points in 78 games. His solid freshman performance (14 goals, 23 points in 32 games) helped Clarkson win the ECAC championship in 2018-19, and the following season he was named to the ECAC's Third All-Star team and named the conference's best defensive forward.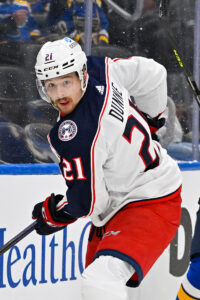 As a professional, Dunne quickly acclimated himself to the AHL game by scoring eight goals and 10 points in his first 15 games in the league.
Last season was more of a struggle as he posted just 11 points in 29 games, but this season he has taken some positive strides.
Dunne has been a consistent force down the middle of Cleveland's lineup this season, providing steady production as the team faced the fallout of their parent club's significant injury losses.
He has tallied 20 goals and 36 points in 59 games this season, and that career-high production has earned Dunne this call-up. With Columbus in the NHL's basement, the remaining games of this season don't serve any major purpose from a wins-and-losses perspective.
Instead, these games can hold the most value from an evaluation perspective, giving their front office the chance to see what they have in certain players against NHL competition. With this recall, the organization will get a chance to look at Dunne, and Dunne will get the opportunity to impress just as he did in college and as he has this year in the AHL.
Photos courtesy of USA Today Sports Images